For months, cryptic teases and rampant rumors have indicated that Magic Leap was planning some sort of big reveal before the end of the year. And today, we finally got an overdue look at the mixed reality device that's been years in the making. No, Magic Leap hasn't shared the release date or the price, but here is our first look at the company's Magic Leap One headset.
Last night, Magic Leap's CEO and founder, Rony Abovitz, tweeted, "A bit more than 25,000 seconds." The time stamp led many to believe that some sort of announcement was coming at 9 AM. And right on time, Magic Leap's website changed to include more information about the upcoming device than we've ever seen. Most importantly, we actually got to see the dang thing. The company says it plans to begin shipping its first product to developers sometime in 2018.
It's a relief to see that the Magic Leap One will not be shipping as some sort of giant backpack-powered monstrosity like what we saw in leaked photos earlier this year. It still requires a small, streamlined hardware unit that's worn on the belt. And we got a look at the controller.
G/O Media may get a commission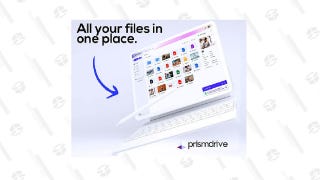 Save 97%
Prism Drive Secure Cloud Storage: Lifetime Subscription
Some of the features Magic Leap touts are pretty standard for what we've come to expect from mixed reality devices like Microsoft's Hololens. But in an interview with Rolling Stone, Abovitz gave us a few more details [emphasis ours]:
The goggles will come in two sizes, and the forehead pad, nose pieces, and temple pads can all be customized to tweak the comfort and fit. By the time they launch, the company will also take prescription details to build into the lenses for those who typically wear glasses.
The controller is a rounded bit of plastic that sits comfortably in your hand and features an array of buttons, six-degrees of freedom motion sensing, haptics, and a touchpad...

The headset also can sense the sound around a user through four built-in microphones and uses a real-time computer vision processor along with – I counted six – external cameras to track the wearer and the world they're in, in real-time. Tiny, high-end speakers built into the temples of the device provides spatial sound that can react to your movement and the movement of the creations with which you're interacting...

Abovitz declines to say what the GPU, CPU or other specs are of the headset, nor will he say what the battery life is. They need to hold something back to release later, he says, besides they're still working on battery optimization.
I'll take that last bit to mean that the battery life currently sucks.
According to Rolling Stone, two bits of tech will set Magic Leap's device apart from other devices like Microsoft's Hololens: a larger field of view and (we knew this already) a new way of rendering 3D objects to the eye using an artificial light field.
The device promises to bring new ways to game in your immediate physical space, the ability to fill your surroundings with displays, remote connection with others through hologram-like avatars, new ways to create, etc. But much of the Magic Leap One's success at doing any of those things will depend on what developers cook up when they finally get there hands on an actual device.

For now, there's no information about a consumer release. There's just a signup option to be notified when shipping begins "in 2018." A software development kit will be coming "early" next year; depending on when the hardware is ready to go, Magic Leap might want to start distributing developer kits around that time.
Now that we know Magic Leap actually has a product after six years of mysterious hints and $1.88 billion of funding, the question is: Can it out-do the competition? Microsoft has a two-year head start with Hololens, it has a dedicated developer community, and simultaneously it's slowly making headway in the VR landscape. All we know for sure is that developers will be doing headset-to-headset comparisons for your viewing pleasure as soon as they get their hands on this device.
Do you know anything about Magic Leap's headset? Email us: tips@gizmodo.com.