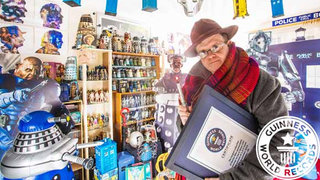 Thought you had a lot of Doctor Who related knick nacks at home? Perhaps not as many as this man from Manchester in the UK does - he's just entered Guinness' Book of World Records for having over one-and-a-half thousand bits of Who merchandise in his collection.
Ian O'Brien's collection started out with a single toy Dalek he got for Christmas in 1974, but since then has expanded to 1,573 individual action figures, annuals, DVDs, enough Daleks to make a Time Lord wet himself, and other assorted bits of memorabilia - and even more, considering the total reviewed by Guinness was taken last year. According to Ian, the collection has expanded even further since then! Despite owning so much stuff, Ian's still on the look out for things to expand his evergrowing collection with - mainly a life-size Dalek, which retails for almost £4,000 in the UK.
Is it wrong to feel a bit of action figure envy in the sight of so many toys? This makes the lone TARDIS currently on my desk look a bit feeble in comparison.
[Radio Times, Images via The Doctor Who Site]
---
You're reading Toybox, io9's new blog for all things pop culture. From merchandise to awesome fan creations, TV recaps and critical commentary on the hot topics of the day, you can find it all here!