In this week's app roundup: leafs, identified; music, voice recognized; Jackass, documented; keyboards, personalized; BBC News, Androidified; Amazon free apps, notified; food, stylized; and much, much more.
Leafsnap: Leafsnap is the smartphone user's secret weapon to a more meaningful relationship with trees. It's incredibly simple and strangely addictive: find a tree, grab a leaf, snap a picture. The app scans its outline-parsing criteria like smooth or jagged edges, single- or many-lobed-and tells you what tree it thinks it came from. It's similar to the "whoa! this is the future" feeling you get when you deposit a check via smartphone.
See the rest of this week's best iPhone apps
G/O Media may get a commission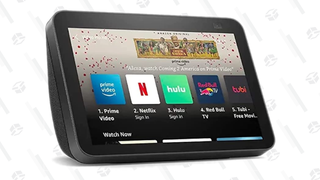 Swiftkey X Beta: It's a fantastic keyboard replacement app. SwiftKey can scan SMS messages, Twitter timelines, Facebook statuses and Gmail to learn your writing style. And it can personalize your experience by letting you choose your own typing style. SwiftKey's always been pretty great and this new "next generation fluency inference engine" might be its best version yet. Free.
See the rest of this week's best Android apps
Jackass: Tens Years of Stupid: Jackass: Ten Years of Stupid for iPad is a behind the scenes look of the biggest Jackasses we know: Knoxville, Steve-O, Pontius, Wee-Man, etc. There's video clips, gross photos, and essays on the entire history of Jackass. It's awesome to re-watch some of the epic skits, look back on the history and see the creative-yeah, I said creative-process behind the show. There's also two super simple games to waste your time on too. $5
See the rest of this week's best iPad apps
We are so crazy about apps right now you wouldn't believe it. If you have recommendations, tips, or just want to let us know about your own app, drop a note in the comments or shoot me an email.