In this week's never-gonna-switch-so-stop-asking app roundup: Free games, reinvented! Airplane anxiety, averted! Photos, wirelessly printed! Cool apps, discovered by other cool apps! Navigation, cheapened! Black Friday rush, preempted! Google Wave, appified! Screens, pointlessly tapped! And more!
The Best
Chorus: Hey, Apple, when people start making apps just to help people find new apps, take it as a sign that your App Store interface could use a little help. Chorus crowdsources the effort to cut through the endless jungle of trash:
Chorus is a bit like Apple's native App Store app, except with drastically shifted emphasis: instead of giving category "Top" lists, which rank apps by overall download numbers, Chorus only pitches you apps that've been explicitly recommended by someone. These someones could include other friends who use Chorus, nearby Chorus users, or a stable of "App Mavens"-online reviewers and tech journalists, mostly.
G/O Media may get a commission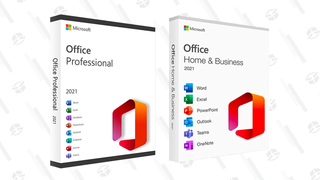 89% off
Microsoft Office Professional 2021 Lifetime License
Free.



ZenApps: An even better sign that the App Store could offer more in the way of search tools, filters and sorting options than a company making an app-finding app? Two companies making app-finding apps. ZenApps takes a more traditional approach than the social network-y Chorus, aggregating review buzz from a list of app sites into a tag cloud, or a simple list. Also free.



Million Tap Challenge: Speaking of maybe worthless crap apps, Million Tap Challenge is a simple app with a simple goal: to be tapped. A million times. This makes the cut because unlike 99.99% of the spammy crap in the App Store, Million Tap Challenge has a sense of the absurd. It knows how ridiculous it is, and for just the right kind of person, it's a brilliant timekiller.



Flying Without Fear: My pops was a pilot, and the thought of being suspended 32,000 feet in the air in a tiny aluminum tube still freaks me the hell out. Flying without fear takes a two-pronged approach to soothing panicked passengers, with relaxation exercises on one side, and more importantly, detailed explanations of each step in typical airline flight, and the terrifying sounds that accompany them. Minor complaint #1: $5 seems a little steep for a branded app—this one is slathered in Virgin Atlantic's colors and logo. Minor complaint #2: Sir Richard Branson, who provides a video intro, is scarier than the worst transatlantic turbulence I've ever sat through. IT'S THE BEARD, BEARDO.



Gokivo: It's getting hard to keep track of all the iPhone navigation apps' names, much less their price structures, so here's what you need to know: Gokivo, the decent-but-too-expensive navigation app, has become Gokivo, the decent and now-not-too-expensive navigation app. The price has dropped from $5/mo to $5 dollars 30 days or $40 for the year. It's not as dirt-cheap as products like MotionX Drive and CoPilot, but solid text-to-speech and live traffic make this a deal.



Black Friday(s): This one comes in two parts, actually! Both FatWallet and Dealnews have put together apps that'll aggregate the best last-minute Black Friday deals come (almost) Thanksgiving. Neither is getting very good reviews right now, mostly due to their lack of deals. Today November 6th, so this is mildly mind-boggling. Patience!



LexPrint: Hey, remember Lexmark? They made printers! And evidently, they still make printers! Also, they've put together one of the better iPhone photo printing apps I've seen. Instead of shipping with grossly limited compatibility like other printing apps (seriously, everyone's got one now, but they're all pretty picky about which printers they talk with) Lexmark bridged the wireless gap with a PC client called Listener, which accepts print requests in lieu of a wireless radio on the actual printer. Kind of brilliant, if you have a Lexmark.



Waveboard: Google Wave is still invite-only, so it's a little strange to see a dedicated app this early on. That said, a sizable group of people are already power-using the shit out of this service that I don't think I'll ever fully understand, so Waveboard, which is marginally better than the stock Wave web interface, might be worth the one dollar entry fee.



Eliminate: This one lands in the top ten for two reasons. One is obvious: This is a fun, smooth-running FPS with intuitive controls—rare!—and solid gameplay. The other is a little counterintuitive: To get the full Eliminate experience, you probably need to shell out for Energy Cells via in-app purchases. This is good precisely because it's terrible, and provides a perfect example to other devs of how not to use the new in-app purchase system. It's fun while the free lasts, though! A cautionary tale.



TowerMadness Zero: TowerMadness used to be a better-than-average tower defense game, rendered in 3D and priced at about $3. Then, there was a lightning strike. A developer was zapped in the skull, collapsed, and three hours later awoke, dazed. As he stood up and surveyed his charred surroundings, he froze as if he was having a stroke; his eyes, though, twinkled. He had an idea. When he finally spoke, everyone around him was stunned: "TOWERMADNESS SHALL BE FREE," he bellowed, "AND IT SHALL BE SUPPORTED BY ADS THAT ARE NOT VERY ANNOYING." Then he died, from the burns. Pointlessly dramatic fake scenario aside, this kind of thing should happen more often.

Honorable Mentions
Cry Translator: This one purports to tell you what your baby's various gurgles, yelps and screams mean. This sounds implausible! Also implausible: That it's somehow worth $30. Just jingle your keys, try to feed it, and smell for poop. Parenting, done.
Family Guy: Hey look, it's a game based on a popular-but-well-past-its-prime television series! It's a bit Nintendo-like, which is charming, and the free version is worth a few minutes of you time, provided you don't hate Family Guy.
This list is in no way definitive. If you've spotted a great app that hit the store this week, give us a heads up or, better yet, your firsthand impressions in the comments. And for even more apps: see our previous weekly roundups here, and check out our Favorite iPhone Apps Directory. Have a great weekend, everybody!