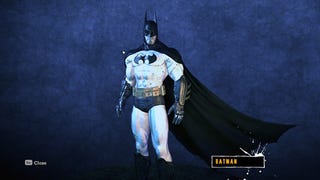 Whoa whoa whoa. Wait a second. Since when does Batman dress up in a cookies and cream batsuit? Unless he's chasing the Joker through a Nabisco factory, this ensemble simply cannot work.
PC Arkham Asylum Players Play Dress-Up
Batman in a Green Lantern suit just isn't right.
Let's Take An Audio Walk Through Akihabara
It's so easy to get lost looking for a specific shop in Tokyo.
Can You Top This Dragon Ball Halloween Costume?
That last-minute costume you've been looking for.
Lost Planet 2 Preview: Let's Hope This Works
Marvel Super Hero Squad Review: This One Is For The Brats
Borderlands' Creative Boss Lives Up to His Loot Promises
Borderlands!!!!
Best Buy Doing The Buy 2, Get 1 Free Thing Too
Starts Sunday.
Ratchet & Clank Future: A Crack In Time Review: The Leap, At Last
Take Dragon Ball: Raging Blast For A Spin
Best name for a DBZ game yet!
The Gears of War Snuggie
You cannot escape the Snuggie.