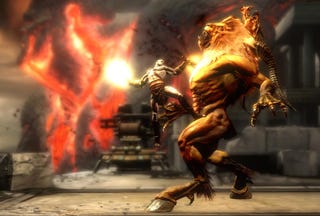 We've all heard about the PlayStation Move by now, but a lot of other neat stuff happened this week in video games, including God of War III's release, Civ 5 details and...a Battlestar Galactica MMO??
Frankenreview: God Of War III
The game cost over $40 million to produce. It'd better be good.
Battlestar Galactica Gets Its Own Massively Multiplayer Game
And it'll run in a web browser.
Torchlight...For Consoles? Maybe!
Torchlight is an impatient man's Diablo III—which I mean as a compliment.
Portal 2 Hijacks Blue Screen of Death At GDC Awards
Valve can do no wrong.
Monkey Island 2 Special Edition Hits this Summer
If you haven't played the first remake of Monkey Island, you really should.
Wii Remote Controlled Laser Pew-Pew!
Hey Ashcraft! You know I love you, but it's called a Wiimote.
Civilization V Preview: Small Changes, Big Differences
Looks much more like a satellite view than previous titles.
Tiger Woods to Share Cover of Tiger Woods Game
EA cheating on Tiger? Now that's just cold.
Mass Effect 2's New Hovertank In Action, Blowin' Up Geth
I loved ME2, but I'm over EA releasing incremental DLC updates. It punishes early buyers/players.
Mass Effect 2 DLC Adds 90 Minutes, More Earth Teases
Ditto.