All your favorite TV shows are back this week — including a new Supernatural, in which Aunt Jenna from The Vampire Diaries is getting knocked up. And you might (or might not) be surprised to see who's the father. Also, a whole new pair of alternate selves meet up on Fringe, and Obi-Wan finds himself in strange company, on Clone Wars. All this, plus discover a two million year old boy, and a living 300 million year old relic of the dinosaur age.
Also, check out new clips from seven of this week's new shows!
Today:
There's another two episodes of House of Anubis on Nickelodeon today at 7 PM.
Adventure Time is back once again at 7:30 PM, on Cartoon Network. In "Ghost Princess," "Finn and Jake try to solve a mystery for Ghost Princess." Here's a clip. And that's followed at 8 PM by a brand new Regular Show, and a new Mad at 8:30.
And here's a Regular Show clip:
Also at 8 PM, there's another new episode of House, the frequently weird-sciencey doctor show.
Then at 9 PM, there's a brand new Alcatraz on Fox, "Cal Sweeney." Guest-starring Flash Gordon!
When a bank robbing criminal (guest star Eric Johnson) returns from the past and things go wrong in the present, Rebecca has to break him out of the hostage-filled bank before people can find out who he is.
Also at 9 PM, there's another new episode of Being Human on Syfy, "All Out of Blood." Here's a clip from the episode, in which "Josh and Nora confront their first werewolf change together. Aidan is shocked to discover a secret from his new girlfriend Julia's past."
Syfy has a brand new (to Americans) episode of Lost Girl at 10 PM, "Sorority."
Tuesday:
At 7 PM, Nickelodeon has more episodes of House of Anubis.
At 7:30 PM, Cartoon Network has a new episode of The Amazing World of Gumball, "The Ape." Check out a new clip at left.
G/O Media may get a commission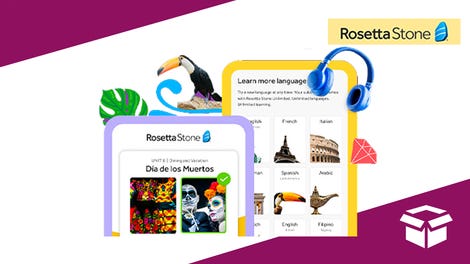 Extra 20% off
Rosetta Stone Lifetime Subscription - All Languages
And at 8 PM, Cartoon Network has a brand new Level Up, "A Heart Worming Tale." Here's what transpires: "The gang find a network of magic passageways, but using them soon leads to chaos." That's followed at 8:30 PM by a new Looney Tunes Show.
At 10 PM, Science has a new Monster Bug Wars.
Wednesday:
Nickelodeon has two more new episodes of House of Anubis at 7 PM.
At 7:30, Cartoon Network has a new Johnny Test, "Johnny's World Record":
Johnny is determined to get in to the "Stout Book Of Crazy-Inane & Useless Records". Everyone in town seems to be good at something but after 23 attempted stunts, he still isn't in. He ends up in the book for doing what he's best at, attempts to get into a record book!

That's followed at 8 by a new Ninjago.
And at 8 PM, there's another new Dragon Ball GT on Nicktoons,
At 9 PM in most markets, PBS has a new episode of Nova, "Ice Age Death Trap."
Racing against developers, experts uncover a site in the Rockies packed with fossil mammoths and other extinct beasts.
That's followed at 10 PM by a special documentary about the Great White Shark.
Also at 9 PM, Discovery has the premiere of a new series, Beast Tracker:
Aliens are invading…not from a distant planet by right where we live. From the murky alligator swamps of Louisiana to Hawaii's pristine but deadly waters to the snake invested waterways of Florida to the hog ravaged plains of Texas, humans are struggling to find a balance between conservation and survival as deadly animals increasingly find their way into our everyday lives. Dr. Andrew West is the BEAST TRACKER and he's on a mission to investigate the "alien invasion" and the fine line between thrive and survive. BEAST TRACKER premieres Wednesday, February 1st at 9pm as Dr. West takes a closer look at the alligator - a 300 million year old relic of the dinosaur age that today finds itself dangerously out of place in the modern world. Dr. West sets out to discover why there is so much conflict between humans and alligators and finds out what is being done to prevent it. He hunts for monster gators in the mosquito infested swamps of Louisiana and tells the blood-curdling stories of people who have faced the terror of being savaged by a prehistoric monster.
Thursday:
Nickelodeon has another two new episodes of House of Anubis at 7 PM.
The CW's supernatural soap operas are back! First up, there's a new Vampire Diaries at 8 PM, "Bringing Out the Dead." In which:
Sheriff Forbes (Marguerite MacIntyre) delivers some disturbing news to Alaric (Matt Davis) and Elena (Nina Dobrev) about the weapon used in a recent murder. In the Salvatore brothers' escalating quest to kill Klaus (Jospeh Morgan), Stefan (Paul Wesley) turns to Bonnie (Kat Graham) and Abby (guest star Persia White), while Damon (Ian Somerhalder) reaches out to an old acquaintance for help in setting up an elaborate plan. Intent on a plan of his own, Klaus hosts a strange dinner party, where he reveals another story from his family's violent past until an unexpected guest brings the party to an end. Meanwhile, Caroline (Candice Accola) is heartbroken when she is unable to stop a tragedy from unfolding.
Also at 8 PM, there's a new episode of The Big Bang Theory on CBS, "The Friendship Contraction."
And a third option at 8 PM: There's another new Dragon Ball GT, "Lord Luud's Curse."
A fourth option at 8 PM: National Geographic has a special, "The Two Million Year Old Boy."
A 9-year-old boy in South Africa discovers one of the greatest fossil finds of all time while taking a walk: a two-million-year-old clavicle bone belonging to a prehuman boy. Its an extraordinary find because it belongs to one of the most complete early hominid skeletons ever discovered.
And then at 9 PM on the CW there's a new Secret Circle, "Medallion." Here's a clip, and here's what to expect:
Cassie (Britt Robertson) enlists the Circle's help when she receives a frightening warning about the witch hunters' return. At the same time, her true feelings for Adam (Thomas Dekker) and Jake (Chris Zylka) surface during a birthday party that Ethan (Adam Harrington) decides to throw with the help of Diana (Shelley Hennig). Meanwhile, Faye (Phoebe Tonkin) and Melissa (Jessica Parker Kennedy) take their inner power to a chilling new level when they try a little of Lee's (guest star Grey Damon) "Devil's Spirit.
Also at 9 PM, there's a new Person of Interest on CBS, "Root Cause." In this episode, "Reese and Finch's latest POI is a down-on-his-luck man who may have reached his breaking point. As the case evolves, the duo calls upon a former POI for help, the resourceful and well-connected Zoe."
At 10 PM, FX has another new Archer, "The Limited."
The Royal Canadian Mounted Police enlist the help of ISIS to transport a captured Canadian terrorist. On a train.
Friday:
Cartoon Network is showing another new Secret Mountain Fort Awesome at 4:30 PM.
Once again, Nickelodeon has two new episodes of House of Anubis at 7 PM.
At 8 PM, The CW has the return of Nikita, "Clean Sweep".
Percy (Xander Berkeley) has his Guardians hold the members of Oversight hostage until Amanda (Melinda Clarke) agrees to his demands. If she doesn't, the Guardians will shoot all the members of Oversight and release a deadly gas inside Division that will instantly kill everyone, including Amanda. Nikita (Maggie Q) is torn between letting the enemy fall and saving the innocent lives inside Division. Meanwhile, Sean (Dillon Casey) is frantic to save his mother from Percy's clutches and turns to Nikita, Michael (Shane West) and Alex (Lyndsy Fonseca) for help.
Also at 8 PM, there's a new episode of Star Wars: The Clone Wars on the Cartoon Network, "The Box."
The disguised Obi-Wan accompanies Cad Bane and Moralo Eval to Serenno, where they enlist in a brutal competition with other bounty hunters from around the galaxy to determine who will participate in a plot to kidnap the Chancellor.
That's followed at 8:30 by a new Generator Rex.
And at 8 PM, there's also the return of A Gifted Man on CBS. That show about the doctor whose dead wife keeps telling him what to do. It's "In Case of Blind Spots," and here's what it's about:
Michael saves a man from drowning and learns his identity is a mystery. Meanwhile, Kate discovers a girl she mentors has serious issues that she has failed to notice.
And at 9 PM, The CW has another Supernatural, "The Slice Girls"
DEAN'S ONE NIGHT STAND HAS SERIOUS COMPLICATIONS; "THE VAMPIRE DIARIES" SARA CANNING GUEST STARS - Sam (Jared Padalecki) and Dean (Jensen Ackles) investigate a case where the victims' hands and feet have been severed and each have been branded with a strange symbol. While Sam does some research at a local university, Dean heads to one of his favorite places to investigate – the town bar. Dean strikes up a conversation with a local named Lydia (guest star Sara Canning, "The Vampire Diaries"), and the two go back to her place. Sam discovers the symbol on the bodies is a sign of Amazon warriors.
Meanwhile, at 9 PM, Fox has a new episode of Fringe, "Making Angels."
Our Astrid gets an unexpected visit from her Alternate, while Peter and Olivia track a killer using a toxin that has yet to be invented. Both universes collide in a case that pushes the boundaries of what is possible.
A third option at 9 PM: a new Grimm on NBC. In "Organ Grinder,"
As Portland's homeless youth start to go missing, Nick (David Giuntoli) uncovers a deadly black market supplying the Grimm world with human organs for all types of elixirs. As the investigation heightens, Nick and Juliette (Bitsie Tulloch) befriend a pair of homeless siblings, Hanson (guest star Daryl Sabara, "Spy Kids") and Gracie (guest star Hannah Marks, "Necessary Roughness"), whose friends have gone missing.
At 10 PM, Syfy has a new (to Americans) episode of Merlin, "His Father's Son."
Also at 10 PM: another episode of the pornotopian historical drama Spartacus: Vengeance on Starz.
At 11 PM, G4 has a new (to Americans) episode of Blade Anime, "That Was Then, This Is Now."
Saturday:
Ben 10: Ultimate Alien moves to its new time slot at 9 AM Saturdays, with "Inspector #13."
At 5 PM, The Hub has the season finale of R.L. Stine's The Haunting Hour: The Series.
At 9 PM, BBC America has episode four of The Fades, in which all seriously appears lost and everybody makes some really really bad choices. Despite the somewhat random fashion in which a certain plot twist took place last time, the results are pretty moving and astonishing.
Sunday:
There's virtually nothing on television tonight, due to something called the Super Bowl... but there is a new Mary Shelley's Frankenhole on Cartoon Network's Adult Swim at 12:15 AM.
Sources: Futon Critic, MSN TV, TV Guide, and various TV studio press releases.