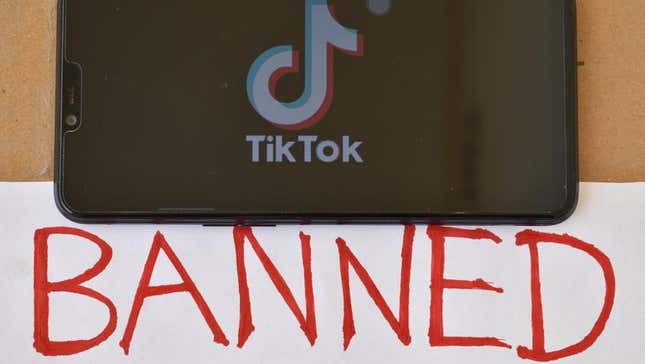 The White House is facing mounting pressure from Congress to ban the widely popular TikTok app nationwide after Sen. Josh Hawley (R-MO) and Congressman Ken Buck (R-CO) introduced a piece of legislation on Wednesday to curb its use. A similar bill to ban TikTok in the U.S. was filed during the last Congressional session, but it was not considered in either chamber.
The No TikTok on the United States Devices Act would ban access to the app on all devices, but it may face pushback from a divided Congress in the coming weeks.
TikTok was launched in 2016 by the Chinese company ByteDance, which has faced criticism from government officials who say the app gives China access to American data, making it a security risk. The app has already been banned on state-issued devices in 28 states and is facing a blanket ban across all federal employees that would prohibit them from using or downloading TikTok on government-owned devices.
President Joe Biden signed a $1.7 trillion omnibus spending bill last month which included a measure to ban the app on all executive branch devices, but it did not apply to Congress and its staffers.
FBI Director Christopher Wray warned the U.S. federal government that China could be using TikTok to control or influence users' devices. He spoke on the subject at the Josh Rosenthal Education Fund Lecture last month, telling students that the FBI has national security concerns about TikTok, saying it "gives [the Chinese government] the potential to leverage the app in ways that I think should concern us."
China can control the recommendation algorithm on TikTok to manipulate or influence users, can collect user data "for traditional espionage operations," and can engage in "malicious cyber activity" through the app, he said. "And so all of these things are in the hands of a government that doesn't share our values and that has a mission that's very much at odds with what's in the best interest of the United States that that should concern us," Wray added.
At least 20 public universities have also taken steps to ban TikTok in recent months, restricting access on school computers, mobile phones, and when connected to school WiFi.
A TikTok spokesperson said in an emailed statement to Gizmodo that Sen. Hawley is not taking the correct approach in a proposed nationwide TikTok ban. "Senator Hawley's call for a total ban of TikTok takes a piecemeal approach to national security and a piecemeal approach to broad industry issues like data security, privacy, and online harms," the spokesperson said.
"We hope that he will focus his energies on efforts to address those issues holistically, rather than pretending that banning a single service would solve any of the problems he's concerned about or make Americans any safer."
Sen. Hawley argued for the legislation in a Twitter post on Tuesday, writing "TikTok is China's backdoor into Americans' lives." He added, "It threatens our children's privacy as well as their mental health. Last month Congress banned it on all government devices. Now I will introduce legislation to ban it nationwide."
TikTok has been in talks with the U.S. Committee on Foreign Investment for two years to address national security concerns, including "corporate governance, content recommendation and moderation, data security, and system access ... to ensure that there are no backdoors into TikTok that could be used to manipulate the platform," the spokesperson said.