Well, it was Saturday. But every day is giraffe day, right?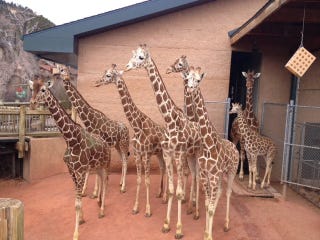 Look, it isn't all #warfront all the time. Some of the best of those non #warfront times were spent at the Cheyenne Mountain Zoo in Colorado Springs, CO. They have your basic zoo stuff, but what's super neat are the giraffes. You can see them on the live giraffe cam here and learn more about them here. (They might be done for the day, but check back.) If you go visit, for like a buck, you can feed them. Such fun, and it's great to peak in during the day and watch people feed, interact, and even pat the giraffes!
Admittedly, it isn't all fun. From the Cheyenne Mountain Zoo Blog, In Between the Spots:
Cheyenne Mountain Zoo is home to one of the largest and most prolific giraffe herds in the country. Our herd is currently comprised of 18 individuals with 198 giraffe calves born at the Zoo since the 1954. With giraffes being such a common and successful zoo animal, wild giraffes must be doing well too, right? Unfortunately the answer is no.

Wild giraffe populations are declining due largely to human activities such as agricultural expansion, habitat loss, and poaching. In 1999, there were an estimated 140,000 giraffes in Africa. Today, fewer than 80,000 giraffes remain in the wild, a decline of more than 40% in just over a decade.
If you want to learn about more you can do to help, click here. If nothing else, check them out when they are coming in for the evening (around 5 or 6pm Mtn Time) or when they come out in the morning (around 9:15am Mtn Time).