Days before a series of phone calls in late-2016 between Michael Flynn and Russia's then-ambassador to the United States, members of the presidential transition team began inquiring about ways to encrypt Flynn's conversations, discussing with the director of national intelligence's office by email a range of technologies that would enable secure communications.

Among the recommendations apparently approved of by the General Services Administration (GSA)—the agency charged with overseeing the orderly transfer of power after a new president is elected—was the use of Signal, a popular encrypted messaging app that allows users to exchange messages that can self-destruct.
These internal conversations, made public under the Freedom of Information Act (FOIA), add further context to internal deliberations of the Trump transition team ahead of moments that have become touchstones of the ongoing Department of Justice (DOJ) investigation into Russia's 2016 election interference. The emails also suggest that, while certain correspondence may have been recently acquired by the DOJ's special counsel's office, other potential sensitive conversations pertaining to Flynn's communication with Russian officials may be forever unobtainable.
Flynn, who served as President Donald Trump's national security advisor for less than a month and resigned after it was revealed he had misled Vice President Mike Pence and others in the White House about his conversations with the Russian ambassador, pleaded guilty this month to lying to the FBI. Flynn phoned then-Russian ambassador, Sergey Kislyak, multiple times on December 29th in an effort to undermine American sanctions against Russia imposed by the Obama administration in response to cyberattacks during the election, according to a plea agreement.
Obtained from the GSA under FOIA by American Oversight, a nonpartisan watchdog group, Trump transition emails reviewed by Gizmodo show that, by the end of November 2016, Flynn had yet to acquire a cellphone that could legally accommodate Secret and Top Secret conversations. However, a variety of services were under consideration: Staff at the Defense Information Systems Agency (DISA), the White House director of technology, as well as a Pentagon project manager overseeing Top Secret data, voice, and video communications, were among those consulted.
G/O Media may get a commission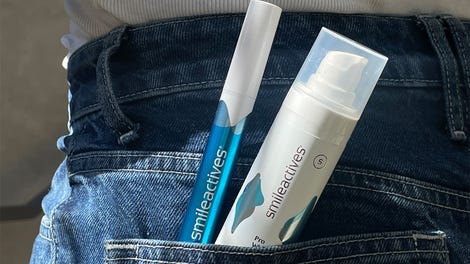 58% off
Whitening Powerhouse Pen & Gel Duo
"Our IT lead has confirmed that we can install an App on the [Presidential Transition Team] phones called Signal. This will provide secure voice and text," a GSA employee wrote on November 28th.
At one point, the GSA asked Verizon to provide a secure phone, but the company said it could not accommodate the request. The transition team was also advised that the Pentagon could supply DMCC mobile devices—smartphones approved by the National Security Agency that allow for Secret-level communications—at a cost of $800 per phone plus a recurring monthly fee of $164.30.
Another transition team member, whose name was redacted by the GSA citing a personal privacy exemption under FOIA, wrote, "Signal sounds great. I don't want to start a process of getting 'more secure' phones for the next 50+ days if we can avoid it and use what we already have."
It's unclear from the emails whether Flynn or other transition team members adopted Signal, which would have allowed them to exchange encrypted text messages that can be set to delete automatically after a predetermined period of time—down to a few seconds, if necessary. Regardless, according to National Archives Records Management, presidential transition team records are considered private records.
The White House did not respond to a request for comment.
Trump transition lawyers have expressed outrage over the GSA's decision to release the emails, which were also acquired by special counsel Robert Mueller as part of the Russia investigation. In a letter to members of Congress last week, Trump campaign attorney Kory Langhofer wrote that the release of emails constituted "unlawful conduct" under the Presidential Transition Act of 1963, which will "impair the ability of future presidential transition teams to candidly discuss policy and internal matters that benefit the country as a whole."
A spokesperson for Mueller's office told the Washington Post that the emails were obtained "in the course of its ongoing criminal investigation" and that the emails were secured with "either the account owner's consent" or through the "appropriate criminal process."
While emails between members of the transition team may be personal, each of the emails reviewed by Gizmodo were either copied or directly sent to other federal employees who are not covered under the Presidential Transition Act, and are thus subject to FOIA requirements.
A day after the Trump transition team discussed the use of Signal, Flynn attended a secret meeting at Trump Tower with Kislyak and Jared Kushner, Trump's son-in-law and advisor, first disclosed by the White House in March. According to the Post, Kislyak later reported to his superiors in Moscow that Kushner discussed establishing a "secret and secure" communications channel between the Trump transition team and the Kremlin. The secret channel was never set up, according to reports.
"For all their complaints about the supposed use of secure messaging apps by the 'deep state,' the current administration has gone out of its way to avoid any kind of scrutiny of its communications," said Austin Evers, executive director of American Oversight. "Perhaps it should be unsurprising then that the president's lawyers desperately launched baseless attacks against Special Counsel Mueller after he obtained a trove of emails from the transition."
The use of Signal by government employees would become controversial in the months following the exchange, as reports surfaced that staff at the Environmental Protection Agency, Labor Department, and within the Foreign Service had used the messaging app to express concerns about the new administration among colleagues and with members of the press.
Texas Republican Rep. Lamar Smith, chairman of the House Science Committee, wrote in a letter to the EPA's inspector general last February that the use of Signal might "run afoul of federal record-keeping requirements, leaving information that could be responsive to future Freedom of Information Act (FOIA) and congressional requests unattainable."