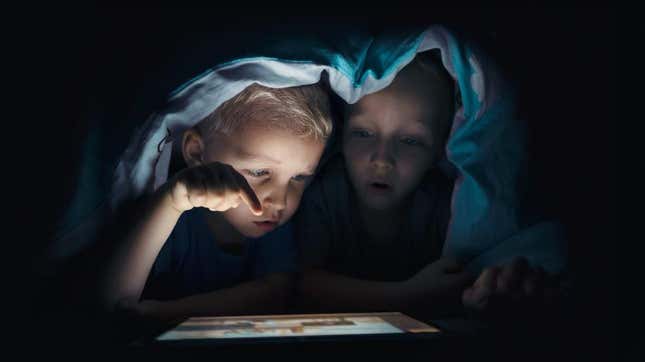 Utah passed a pair of laws on Thursday laying out groundbreaking rules for children and social media. The laws require social media companies to verify users' ages, obtain parental consent before kids can use apps like Instagram or TikTok, and ban anyone under 18 from using social media between 10:30 PM and 6:30 AM.
Nobody's Really Watching Reels
The laws are new and unusual, but they're part of a broader trend, not just to reign in social media companies, but to set new standards about how the internet treats children. Most Americans agree that something needs to be done about big tech. However, the approaches we're seeing will create a new set of complicated problems.
"We remain very optimistic that we will be able to pass not just here in the state of Utah but across the country legislation that significantly changes the relationship of our children with these very destructive social media apps," Gov. Spencer Cox told the Associated Press.
Juggling new rules for social media is one of the few projects uniting Democrats and Republicans. Arkansas, Louisiana, Ohio, New Jersey, and Texas, are all considering proposals that are similar to Utah's new digital nanny regulations. Last year, California passed the Age Appropriate Design Code, which sets additional standards on how tech companies can track and manipulate kids.
Everyone can agree that we should protect our children, the only question is how we should do it. It's not clear how Utah's law will be enforced. Verifying users' ages, for example, carries an inherent privacy violation. In effect, Utah's new laws may force social media companies to scan state IDs or other government documents. In other words, the state may hand tech companies more sensitive data about children than ever before.
Some tech-focused groups, like Common Sense Media, which advocates for kids' safety online, support Utah's bill. Others, such as the Electronic Frontier Foundation, say it violates teens' rights to privacy and free speech. The tech industry agrees "Utah will soon require online services to collect sensitive information about teens and families, not only to verify ages, but to verify parental relationships," said Nicole Saad Bembridge, the associate director of the litigation center at NetChoice, a trade group that counts Google and Meta among its members.
A state-run bedtime for social media also looks uncomfortably similar to the way China's government parents its citizens. A 2021 law in China limits kids to just three hours of video games a week to curb gaming addiction, drawing widespread criticism in the United States.
The US may soon take another lesson from China's how-to guide on authoritarianism by banning TikTok because it might share data with the Chinese government, a hypothetical concern that's never been verified with a shred of evidence.
On Thursday, TikTok CEO Shou Zi Chew testified before congress in a combative five-hour hearing. Congress members on both sides of the aisle berated Chew for TikTok's effects on users, particularly kids, and its alleged ties to the Chinese Communist Party.
Among the TikTok hearing's most bizarre elements was the fact that all the politicians got along with each other. As Rep. Buddy Carter put it in his cheerful Georgia drawl, "Mr. Chew, welcome to the most bipartisan committee in Congress!"
TikTok is owned by ByteDance, a Chinese company. There's a law in China that says the government can force any business to hand over data whenever it wants. In theory, that could result in the Chinese Communist Party leafing through American user data—sort of like when the US government leafs through the data of its homegrown tech companies. Lawmakers also fear that China could censor content or spread propaganda through the app.
These are real concerns—but nothing about them is unique to TikTok. Anyone who understands how companies make money with data will tell you the internet is designed to share information with anyone who wants it. A 2020 Gizmodo investigation showed apps like Facebook, Instagram, YouTube, and Twitter all share data with Chinese companies. The Chinese government can also buy data from American companies who have it for sale because the federal government allows the tech industry to violate your privacy.
Propaganda is a concerning issue as well. But Facebook, Instagram, Twitter, YouTube, and Google Search all manipulate content in ways that no one outside the companies truly understands. However, Meta, Google, and Twitter will all tell you they have the best interests of the American public at heart. So, nothing to worry about there, I'm sure.
Why then all the focus on TikTok? Perhaps it's because being tough on China is an easy way to score political points while regulating giant American businesses could upset your campaign donors. It could also have something to do with the fact that Meta hired a Republican lobbying firm to malign TikTok.
The federal government spent the last four years threatening TikTok with a ban if the company can't deliver a solution to national security worries. Thursday's hearing made it clear like never before that the window is closed. For the first time, it seems truly inevitable that the US is going to ban TikTok or force ByteDance or ban the app.
What that means is you can look forward to reading about a drawn-out legal battle on Gizmodo.com. If the government tries to force a sale or ban TikTok, it will hear about it in court. It's not clear that the government has the legal authority to ban a company from operating in the United States unless it can demonstrate evidence that the app is acting on behalf of a hostile foreign power. Maybe that evidence exists! But we haven't seen it.
Along the way, we're setting a new precedent in which lawmakers will increasingly interfere with who can do what on the internet, whether that's a child, a parent, or a private company. Welcome to the land of the free.
More: The 10 Most Absurd Moments From the Congressional TikTok Ban Hearing