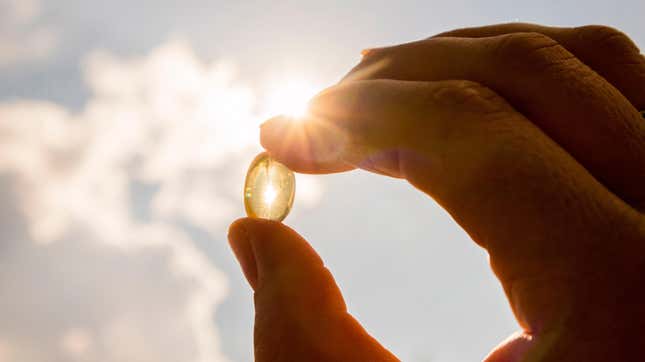 Taking vitamin D supplements was linked to lower rates of attempted suicide and intentional self-harm among former military members, new research found. In the study, scientists looked at data about a large group of U.S. veterans and determined that those given supplemental vitamin D were at lower risk for attempting suicide or self-harming than those who weren't. However, the study can only show a correlation, not a cause-and-effect relationship, and the research has limitations.

The work, published in the journal PLoS ONE, adds to a growing body of science suggesting a link between vitamin D deficiency and depression or other forms of mental illness. It also offers a potential additional avenue for preventing self-harm and suicide among veterans, who are about 1.5 times more likely to die by suicide than other adults, according to the American Psychological Association.
"As a relatively safe, easily accessible, and affordable medication, supplementation with vitamin D in the VA may hold promise if confirmed in clinical trials to prevent suicide attempts and suicide," wrote the researchers.
To come to that conclusion, the team analyzed data from hundreds of thousands of people listed in the Department of Veteran Affairs (VA) records. They looked for people who had at least one medical or pharmacy interaction noted between 2010 and 2018. Then, they compared the veterans within that group who were prescribed vitamin D by the VA to similar, control subjects who hadn't been offered supplements, to see if there was any difference in the number of suicide attempts or reports of self-harm behavior.
They found that among the control group, the unadjusted rate of suicide attempts and self-harm was about 0.36%, versus 0.2% in the treated groups— a nearly 44% difference. Being given vitamin D2 supplements was associated with a 48.8% reduction in attempted suicide risk and D3 supplements with a 44.8% reduction.
The scientists further found the link between vitamin D supplements and reduced suicide risk was even more pronounced among Black veterans. In that subgroup, supplementation was correlated with about a 60% decline in suicide attempt and self-harm risk.
Finally, among veterans with reported vitamin D deficiencies (blood serum levels below 20 ng/ml), supplementation was linked with the biggest reduction in suicide risk of any subgroup. Subjects with low vitamin D levels in their medical records who were prescribed supplementation were more than 64% less likely to attempt suicide or self-harm than those who weren't.
Somewhere between 42% and half of the U.S. population might not get enough vitamin D—and that deficiency rate is much higher among Hispanic and Black adults than their white counterparts, according to a 2018 review study. Vitamin D is synthesized in the skin with midday Sun exposure, but people with darker pigmentation likely require more intense UV light exposure in order for their bodies to make enough of the vitamin. It's a tradeoff between the protection melanin offers against the harms of UV rays and the necessity of some UV exposure.
Vitamin D deficiency has been linked with lots of health problems, including aches pains, bone and muscle weakness, increased risk of death from heart disease, cognitive impairments, childhood asthma, and certain cancers. Prior research has also suggested a link between vitamin D levels and depression and other mental health issues. However, past studies of the possible correlations have yielded mixed results.
Among military members, specifically, one 2013 study of about 1,000 former service members, half of whom died by suicide, found that those with the lowest vitamin D levels had the highest risk of attempting suicide. Another 2020 study of more than 150,000 Korean veterans found those with severe low D levels were much more likely to have experienced suicidal ideation. However, some other research has detected no or negative effects with vitamin D supplementation on psychiatric health.
Yet the new study supports the idea that, when it comes to depression and suicidal behavior, vitamin D could play a role. As with any research though, there are caveats.
Because the study was done by looking back at previously collected data, it has some big limitations. For one, the study authors had no way of knowing if people included in the control group were accessing vitamin D supplements independently, outside of VA settings. Vitamin D supplements can be purchased at many retail stores without a prescription, for relatively cheap.
It's also possible that the group of people picking up their prescriptions for vitamin D had additional co-factors that made them less likely to attempt suicide—like a more robust social support system. The study also didn't assess every possible variable that could contribute to suicidal behavior, like traumatic brain injuries, which are common among veterans.

Additional research would illuminate whether the connection found in this study is a genuine link. But people should take caution when it comes to taking high amounts of vitamin D. In large quantities, vitamin D supplements can make you sick and cause kidney damage. The human body can only absorb a certain about of vitamin D before the excess ends up in our organs. Vitamin D has also been studied for its effect on covid-19 severity, but the results were disappointing.
If you or someone you know is having a crisis or contemplating suicide, please call or text the Suicide and Crisis Lifeline at 988. You can also call the National Suicide Prevention Lifeline at 800-273-8255 or text the Crisis Text Line at 741-741.