Three big names are in the running for a huge role in Doctor Strange. James Gunn says the Guardians of the Galaxy and the Avengers won't cross over too soon. Ridley Scott echoes what Harrison Ford said about the Blade Runner sequel. Krysten Ritter explains why she'd so excited to play Jessica Jones. And how close are we to Beetlejuice 2?
Top image: Amazing Spider-Man 2
Spider-Man
In addition to the news that Marvel and Sony were in discussions to share Spider-Man, with Marvel wanting the character to appear in Captain America: Civil War, there's a new rumor that Marvel really wants to reboot the character with a new actor. And Latino Review's sources seem to believe this deal could still happen, and Marvel has plans for its own Spider-Man solo movies.
And in addition to ditching Andrew Garfield, Marvel wants to eliminate the various romance plots that have been front and center in the five existing movies. They also don't want to redo the character's origin again, so their new films would start with Peter Parker already being Spider-Man and deal with his double-life, keeping romance very much in the background. [Latino Review via Slashfilm]
---
Doctor Strange
According to Latino Review's sources, Morgan Freeman, Bill Nighy, and Ken Watanabe have all been approached to play the Ancient One in Doctor Strange. If the rumors are true, and the film isn't an origin tale, including the Ancient One is an interesting move. He could appear in flashbacks or show up as part of the plot, as the villain Mordo (a rejected trainee of the Ancient One) is also rumored to be the bad guy in this movie. [Latino Review]
G/O Media may get a commission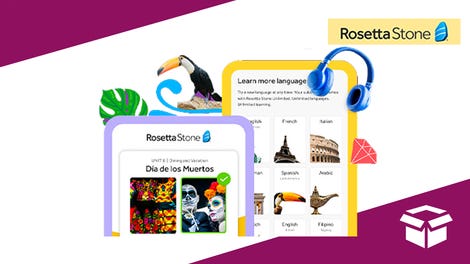 Extra 20% off
Rosetta Stone Lifetime Subscription - All Languages
---
Guardians of the Galaxy/Avengers
James Gunn says that what happens in Age of Ultron won't affect Guardians of the Galaxy too much, as well as hinting that we are all wrong to speculate that the Guardians will pop up on Earth any time soon:
It's trying to make it affect it as little as possible. We really are separate from the Avengers, and I don't think people should assume too many things about the Guardians play in all this. We have our own galaxy to take care of. We have our own galaxy to save. Earth is the Avengers' province. Thinking that everything is going to come together in a perfect way is not necessarily the way it's going to happen.
---
Ant-Man
The updated official synopsis allows us to match more actors to their characters:
The next evolution of the Marvel Cinematic Universe brings a founding member of The Avengers to the big screen for the first time with Marvel Studios' "Ant-Man." Armed with the astonishing ability to shrink in scale but increase in strength, master thief Scott Lang must embrace his inner-hero and help his mentor, Dr. Hank Pym, protect the secret behind his spectacular Ant-Man suit from a new generation of towering threats. Against seemingly insurmountable obstacles, Pym and Lang must plan and pull off a heist that will save the world.

Marvel's "Ant-Man" stars Paul Rudd as Scott Lang aka Ant-Man, Evangeline Lilly as Hope Van Dyne, Corey Stoll as Darren Cross aka Yellowjacket, Bobby Cannavale as Paxton, Michael Peña as Luis, Judy Greer as Maggie, Tip "Ti" Harris as Dave, David Dastmalchian as Kurt, Wood Harris as Gale, Jordi Mollà as Castillo and Michael Douglas as Hank Pym.

Directed by Peyton Reed and produced by Kevin Feige, Marvel's "Ant-Man" delivers a high-stakes, tension-filled adventure on July 17, 2015.
---
Blade Runner 2
Speaking to MTV, Ridley Scott talked about Harrison Ford's reaction to the script for the sequel:
I sent him [the script] and he said 'wow, this is the best thing I've ever read.' It's very relevant to what happened [in] the first one. I'm not just doing a sequel with lots of action and see how far we can go with the special effects, because you can't really. [With] Blade Runner we kind of landed on a somehow very credible future. And it's very difficult to change that because it's been so influential with everything else.
See the video at the link. [MTV]
---
Shazam
In case anyone wasn't aware, Dwayne Johnson is really excited to play Black Adam. See his tweet below. [via Coming Soon]
---
Beetlejuice 2
Tim Burton told Coming Soon that a sequel is "closer than ever," explaining:
It's a character that I love and I miss and I miss actually working with Michael. There's only one Betelgeuse. We're working on a script and I think it's probably closer than ever and I'd love to work with him again.
---
Sega
Evan Cholfin has been hired by Sega and Stories International to head the effort to adapt their titles for the big screen. Of the ones in its stable, the ones in the hopper are Altered Beast, Streets of Rage, Shinobi, Rise of Nightmares, and Crazy Taxi as English-language live action and animated spinoffs. [Variety]
---
Kong: Skull Island
The King Kong prequel has had both a name change and a release date change. Its new name is Kong: Skull Island and it'll hit screens on March 10, 2017 rather than November 4, 2016. Here's a new synopsis:
In the spirit of its worldwide blockbuster Godzilla, Legendary Pictures presents a bold new take on the mythos of another iconic beast with KONG: SKULL ISLAND, which stars Tom Hiddleston (The Avengers and Thor series). Directed by Jordan Vogt-Roberts (The Kings of Summer) and written by John Gatins (Flight) and Max Borenstein (Godzilla), KONG: SKULL ISLAND will fully immerse audiences in the mysterious and dangerous home of the king of the apes as a team of explorers ventures deep inside the treacherous, primordial island. Legendary's story honors the foundations of existing King Kong lore, but places it in an entirely new, distinct timeline. Thomas Tull (Godzilla, The Dark Knight, Pacific Rim) and Jon Jashni (Godzilla, upcoming Warcraft) will produce and Alex Garcia (Godzilla) will executive produce. The film will be released in 3D and IMAX 3D by Universal Pictures.It'll be released in 3D and IMAX 3D.
---
The Jungle Book
Here's the first official concept art from Jon Favreau's live-action Jungle Book. It doesn't show much more than Mowgli with Bagheera, but, to my eyes, it does strongly evoke Disney's animated version. [Cinema Blend]
---
Jupiter Ascending
Here's a new UK TV spot. [via First Showing]
---
Arrow
It sounds like, whatever happens to Oliver, we'll see Roy step up a lot when the show returns. Says executive producer Marc Guggenheim:
One of the things I was very straight with Colton [Haynes] about is I don't think we serviced his character quite as much as we would have liked in the first half of the season. I'll say the stuff that he's got in episodes 10, 11, and 12, it's pretty dang gangbusters.There's one scene in episode 11 between him and John Barrowman that I think is some of his finest work on the show.
Marc Singer has been cast as General Matthew Schrieve, and will recur starting in episode 3.14. The show's take on the comics character is described this way:
In the DC Comics, Matthew Shrieve is the leader of a group known as the Creature Commandos. In 'Arrow' he will play a significant role in the latter portion of the season's flashback storyline.
Go to the link for more set photos from episode 3.13, "Canaries." It looks like Oliver will either be back in commission by episode 13, or Roy's having a hallucination or flashback of the two of them chasing a bad guy. Stephen Amell told the photographer that his costume had a spoiler on it, and the only thing they could find was what "appears to be 6 spots on his shoulder that are in the shape of an arrow funny enough...but I THINK they are some type of arrows, or arrow heads?" [Canadagraphs]
---
Agents of SHIELD
Executive producer Jed Whedon says that we will learn why Skye's father said that everyone would be afraid of her when she changed:
He has his reasons for saying that. Maybe it's based on experience. We'll learn that he's obviously a crazy person, but a lot of what he says isn't that crazy.
---
Jessica Jones
Krysten Ritter is doing the background research for her new role:
I wasn't [a comic book fan before]. It's so brand new! This is like my first interview. I wasn't, but I am now reading the Jessica Jones comics and devouring them. And [I'm] hooked. I don't think I've been so hooked on something since Serial. So now I feel that way about the Jessica Jones series. I can't wait. I mean, as soon as we're done today, that's what I am going to be doing. I'm really excited about Jessica Jones. It's so fucking cool. It's so cool. I can't wait to watch it.
She also can't wait to work with Melissa Rosenberg:
Fuck yeah. My favorite. It's crazy, because I remember, like, six years ago, I was like, "I just want to work with female directors and female showrunners; there's none." And I feel like, since then, I've exclusively worked with women, which I love. I worked with Amy Heckerling, Kat [Coiro], Jessica Goldberg, Leslye Headland, Nahnatchka Khan, the creator of Don't Trust the B—, who is my idol and bar for anything funny. And now Melissa! It's a dream come true.
---
Sleepy Hollow
Jaime Murray (Warehouse 13) will play a vetala, or ghostly being from Hindu mythology, in episode 2.14, "Kali Yuga." Also joining the cast in the new year is Sharif Atkins as Calvin Riggs, an "upright" and award-winning photojournalist whose hometown is Sleepy Hollow and who has a brother named Daniel Riggs. [TV Line]
---
Constantine
Star Matt Ryan explained why all the new characters are so important to the show's continuity:
We have all of these different characters that come in, and we see different sides of John. With Gary Lester, with Papa Midnite, with Jim Corrigan, and Anne Marie… what's great is there's all these different parts of John within these characters. So each time there's a new character, there's another part of John to explore. It's more than just him taking on another case and going. That's the stuff that really interests me about this show, and where we go… we really do get into the relationship stuff where there are possible longer arcs of things, rather than the kind of 'demon of the week' thing, which you kind of have to do to set the world and all that sort of stuff, but then we get into some more interesting relationship stuff, which I think is the best stuff, to be honest.
If the show does get picked up for more episodes, which may or may not happen, Ryan talked about what's in store:
I think what we'll do is, we'll be seeing Judith and possibly Frank, and then I think what we will do is then do a flashback episode about what happened to Astrid. Possibly. That's what I've heard. ... I don't know [if we'll see Constantine's past in a punk band]. I'd love to do it, man. I've talked to them about it, and I have said 'look, why not?' That would be really good fun.
---
The Vampire Diaries
Executive producer Caroline Dries says that Enzo will become more of a villain going forward. And letting magic return to Mystic Falls allows the show to have all of its characters in one place again. However, Dries says:
It creates more problems for Matt (Zach Roerig), who didn't want vampires to come back to town or didn't want [the] supernatural to return, and it makes Kai a supercharged witch who will put all of our characters' lives in jeopardy. The real question is, why does he want Elena when he's so focused on merging with Jo? And how are we going to save Elena? [But] Kai siphoning up all this magic is a challenge even for him because he's never had access to so much magic.
[TV Guide]
Julie Plec tweeted a bunch of details about the show's second half of the season. [via SpoilerTV]
Episode 6.14 will be called "Stay." [SpoilerTV]
---
iZombie
Aleks Paunovic (This Means War) has a "heavily" recurring spot on the new CW show about Liv, a zombie med student working in a morgue. [Deadline]
---
Agent Carter
Here's the first clip from the first episode:
---
Doctor Who
Here's a sneak peek at the Christmas special, "Last Christmas," featuring Santa's arrival, toys, and Rudolph:
---
American Horror Story
Here are some photos from episode 4.10, "Orphans."
Additional reporting by Charlie Jane Anders and Abhimanyu Das