BlackBerry's out today with a new handset and, more importantly, a brand new operating system with at least one killer app. The whole thing could be the key to RIM's salvation. So what is BlackBerry 6, exactly?
It's an operating system...
BlackBerry 6 is the most major OS upgrade for BlackBerry users in years—BlackBerry OS 5 was a bit faster than its predecessor when it was released last spring, but the bulk of the changes were largely cosmetic. Parent company RIM has dropped the OS from the name for BlackBerry 6, whose flagship phone is the newly announced BlackBerry Torch 9800. It'll also come to the BlackBerry Bold 9700, BlackBerry Bold 9650 and BlackBerry Pearl 3G as well as future BlackBerry handsets. Storm and Storm 2 owners appear to be out of luck.
...with an overhauled user interface...
RIM has been trickling out preview videos of BlackBerry 6 for a few months now, and the most striking new feature is the system-wide multitouch.
G/O Media may get a commission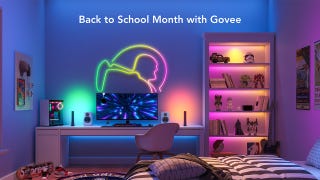 Back to School
Back to School Month with Govee Sale
It also supports touchscreen commands (instead of constantly pressing the Menu button). Sending an email, you could click and hold the email and choose send from the pop-up box, as opposed to hitting Menu and send from there. Every application has an Action Menu that allows you to bring up common actions or tasks to choose from by pressing down on the touchpad or clicking and holding the trackpad.
...a killer Wi-Fi media sync function...
If there's a game changer here, at least for RIM, it's the Wi-Fi media sync capability. One of BlackBerry's biggest weaknesses has always been how it handles media, but with BlackBerry 6 they've taken a pole position. You can suddenly view your entire iTunes or WMP music library from your phone, create and edit playlists, and download songs if your phone is on the same Wi-Fi network as your computer.
...a blazing fast browser...
The other major upgrade BlackBerry's been touting is the super speedy WebKit browser. How fast is it? Fast enough to beat the pants off of iOS4 and Android 2.1 in a recent series of speed tests. That's not to say it beats out to Froyo, but it instantly gives BlackBerry one of the fastest mobile browsers out there. It also supports HTML5, which these days is a prerequisite.
...along with social networking integration...
In order to thrive, BlackBerry needs to be seen as more than just an enterprise phone manufacturer, which is where BlackBerry 6's Social Feed comes in. Social Feeds brings together Facebook, Twitter, and BBM into a single feed and lets you post to as many of them at once as you like:
...and a host of other upgrades...
Universal search. An improved media player. Customizable homescreen icons that can be sorted into five types of views (All, Favorites, Media, Downloads and Frequent). We've known about these features for a while, and none of them by themselves make BlackBerry 6 stand out among its rivals. But combined, at least RIM's handsets can finally take a seat at the table.