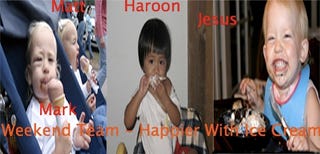 Another weekend rolled by and while you were out socialising and eating all things dairy, we were cooped up slaving away to bring you the best gadget news we could get you, without paying for it. "Without paying?" we hear you cry; well we did pay, with our very own sweat and tears. Jump for what you missed.
•Mac chick of the month got an iPhone to play with.
•Talking of iPhones, those hackers got closer to a full software unlock.
•NBC mole was publicly ousted from hacker convention DefCon. It was glorious.
•We got all frisky with a Storm Trooper Stripper. (NSFW).
•An inmate at Big Sandy allegedly did something to his bum he should not have.
•Fluorescent tube lights reduced their carbon footprint.
•We heard word old Mac keyboards were no longer shipping.
•iPhone 2.0 fever made an early entrance.
•We found out Superman is French.
There you have it, with all those eclectic news bite goodies, we know you will be kicking yourselves for not making time to come and see us. As you were outdoors eating ice cream we shall forgive you. Just this once; next week bring your ice cream indoors and then load up Gizmodo. Better yet, bring us ice cream and then carry on with the second part of the plan. Golly gosh, I just can't wait for that ice cream...