TV is rapidly moving online. But you already knew that. What you don't know—because it's nearly impossible to tell—is exactly what shows are available online right now, where they're located, and what's worth watching.
We recruited Internet TV guide Clicker.com to bring you this new column every Friday, highlighting the best of "what's on online" in the week ahead. So much for being productive at the computer.


Here's what's on tap this week:
TV SHOWS
MTV Video Music Awards MTV posted the entire ceremony to the Web, less than 24 hours after it aired on TV. Complete with the live performances, acceptance speeches, and Chelsea Handler's spot-on imitation of Lady Gaga, this special covers everything you would have seen on your TV. Only this time you'll be able to fast forward through the boring bits.
G/O Media may get a commission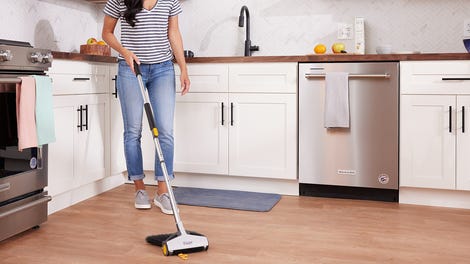 BOGO 50% Off
Flippr - BOGO 50% Off
Terriers The FX show about two unlicensed detectives hungry to take on cases for which they are clearly underqualified premiered its pilot last week and Amazon.com is currently offering an HD stream for free. The best part? Once you stream it, Amazon will add the episode to your permanent VOD library so you'll own it forever, whether or not the stream remains free for others in the future.
Coupling The BBC show that centers almost exclusively around sex has never been easier... to access. Hulu is currently offering every single episode from all four seasons. If you're a long time Coupling fan or you're just down to learn the British euphemisms for sexual slang, now's the time to tune in.
WEB SERIES
Status Kill This new Web comedy makes fun of our obsession with social networking sites. The main character, Denton, is obsessed with a social site called "Tweetfacester" and uses it to distract himself from the monotony of the workplace, as most of us do. The only thing is, his workplace is anything but monotonous; the guy's a sniper. If you don't enjoy it for the social commentary, you're bound to dig the shoot-outs.
Council on Foreign Relations Conversation with Feisal Abdul Rauf. It's the most recent controversy involving the World Trade Center: the NYC Mosque debate. If you haven't been a part of the conversation, you've heard it. And now you can hear it straight from the horse's mouth: the mosque's Imam, Feisal Abdul Rauf, gave a speech the topic to the Council of Foreign Relations and the whole thing is currently online. Knowledge is power.

COIN-OP TV's Interview with Halo: Reach Creative Director Marcus Lehto It was one of the most anticipated games of 2010, and COIN-OP TV scored an interview with its creative director, Marcus Lehto. Get an exclusive look at what it took to turn the concept into a reality.
Everything Is A Remix If you've ever wondered how some of your favorite artists come up with such original tunes, you might be surprised to discover that, well, sometimes they don't. Everything is a Remix is a 4 part series from the Web series Goodie Bag. Part one explores some of our favorite classics, only to expose them as remixed versions of pre-existing songs. It's simply fascinating! If you like music, you'll love this.
MOVIES
Bottle Rocket This movie is notorious for coming on and off the Internet, but we're happy to report it's back online. Watch it while you have the chance. It's a cult classic and some would argue it's Wes Anderson's best work.
LIVE STREAMS & EVENTS
Sunday Night Football Extra Football kicked off over a week ago, and Sunday Night Football Extra is how NBC aims to bring you live online coverage for the rest of the season. Every Sunday night at 8:30pm ET, you'll be able to sign on, tune in, and keep up with every play in real time from the comfort of your laptop. This weekend it's the Giants against the Colts, so don't forget to plug in. It's on.
Kevin Pollak's Chat Show Comedian Kevin Pollak has been hosting his successful Web talk show for over a year now, but this Sunday at 6:00pm ET he'll be welcoming actor Fred Willard to the set and it is sure to be one of his best episodes to date. Known best for his roles in Christopher Guest's mockumentaries, Fred Willard has amassed a solid reputation for finding the funny and hammering it in until he has you in stitches.
Clicker is the complete programming guide for the new era of Internet TV. Clicker catalogs all the premium TV shows, movies, Web series, live events and music videos available on the Web in one seamless, organized experience so viewers can easily discover what's available to watch, where to watch it, and share what's worth watching online and from their iPhone or Android devices.