There are more photos and details from the set of Avengers: Age of Ultron. Plus Agents of SHIELD already has plans for seasons two and three. And new details from Under the Skin and The Machine. Plus watch more Game of Thrones trailers, and a Walking Dead finale clip. Spoilers right now!
Top image: Doctor Who
Avengers: Age of Ultron
We've got some context for the photos of Quicksilver, Scarlet Witch, and Hawkeye that popped up over the weekend. They're filming in Valle D'Aosta, Italy, but they're using it as a double for an Eastern European city named Sokovia, with many of the signs being written in Serbian. The trio is attempting to escape Ultron, with rescue coming in the form of a drop ship, pictured below. [Cinefilos, Coming Soon]
G/O Media may get a commission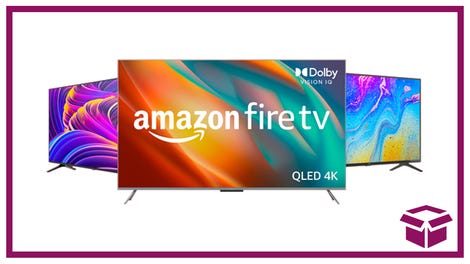 Ooh. stunning.
New Amazon Fire TVs
---
Under the Skin
In an interview with Rolling Stone, Scarlett Johansson talked about her initial involvement in the project and what the script originally looked like:
How did this script first come across your radar? I don't know your agent, but I don't imagine a script in which someone is a naked alien riding around a van in Scotland is something every agent is pushing to their clients.

Probably not. [Laughs] The early version of the script that I read was pretty straightforward, actually…much, much more straightforward than the script we eventually shot. At that time, it was more a two-hander about this alien couple who are trying to blend into the populace of a small town; the locals become suspicious and the aliens need to figure out how to avoid being detected. I believe Brad Pitt was attached to play the guy at that point.

This doesn't sound like Michel Faber's book at all.

It wasn't anything like the more ambient thing we ended up doing, that's for sure. It was very different, and much more contained. I met with Jonathan at that point because I knew he was looking for someone to play the female part, and because I was desperate to do something with him…this would have been around 2008 or so. And within a minute of meeting him, I thought to myself, All right, so this is never going to happen. [Laughs] He was almost trying to convince himself to make the movie, which I realize now was him not wanting to make that script. There was something about the story that got to him — but it wasn't two aliens trying to pass for human in a small town. I could tell that he was trying to find where he fit into it.
More at the link. [Rolling Stone]
Screendaily has a comprehensive history of the film's production, including hints about what the alien looks like:
Glazer was able to begin working with London-based VFX house One of Us, who between them came up with what Wilson describes as the "black matter" that accounts for the alien. According to Wilson the idea was aiming at something analogous to the inscrutable otherness of the monolith in Kubrick's 2001: A Space Odyssey.
There's also this description of the unique filming process:
"I went into this project with absolutely no idea how we were going to shoot it or what it was going to be" [said Johansson]

"It was weeks before I even knew what I was doing," she continued. "Jonathan and I spent a lot of time talking about it, both of us saying, 'I will not let you down – I will give you everything I have!' I don't think either of us knew quite what we were doing. But we started it, and it became clearer as we went along."

A case in point was the film's nightclub scene. Glazer, his crew, Johansson and actor Paul Brannigan hid in a back room of Glasgow nightclub The Shed until the venue filled up with boozed up revellers.

Once full, they slipped out into the crowd, with the two actors filmed surreptitiously by cameramen hiding cameras under their jackets and in backpacks.

The shoot would also require a technical leap of faith on behalf of the actors, crew and financiers, as Glazer has described: "There were eight cameras built into the dashboard [of Johansson's car], behind headrests, places where you would normally find an air conditioner, and so on. They were all wired into the back, behind the bulkhead. Behind the bulkhead I'd be sitting in a chair and I'd have a monitor with eight images on it from the eight camera feeds. I'd have the DP sitting next to me, two guys doing digital imaging, the first AD and the sound man."

"Behind us, there'd be a follow-up van, with makeup people and PAs, who had to jump out of the van and get release forms from people that we happened to film," he adds.
Tons more about the production at the link. [Screendaily]
For the film, Johansson, in character as an alien hunter, went out to pick up regular people, not actors, on the streets of Glasgow. From The Independent, we learn a bit more about how that worked:
It wasn't as easy as you might think. If she was too overtly sexual in her advances, most of the men she approached shied away, frightened of this oddly emotionless girl with the English accent and predatory manner. She had to be more subtle, to somehow improvise her way, from asking for directions to grilling them about where they were going and who with, to inviting them to hop in.

. . . It is unusual to find a Hollywood actress willing to put herself in such a vulnerable position, but Johansson likes projects that make her uncomfortable. "It was terrifying, but empowering," she says. "In that state of mind, I really felt like I was on a hunt."
---
Captain America: The Winter Soldier
Scarlett Johansson also talked about why she likes playing Black Widow in these movies:
If that wasn't there to counteract the ass-kicking part, I would be truly miserable. But I think audiences respond to these movies because there is real drama there. You see these characters struggling with this identity that's been carved out for them, and making hard choices where people are going to die.
---
The Machine
In The Machine Toby Stephens plays a scientist working on the development of an AI-enabled fighting machine (played by Caity Lotz), an experiment that, of course, goes terribly wrong. Stephens described working with Lotz as the machine as weird, saying:
It was very odd, because I'd be doing scenes with Caity where she'd be naked but she was playing a machine and somehow it totally altered how the scene would be if she was playing a human being. Because her nakedness was totally immaterial, because I was dealing with a machine. It was desexualised in a way.

And she was so convincing and she would remain in the role. Because it's not one of those things you want to switch on and off.
Here's the plot as described by producer John Giwa-Amu:
Toby [Stephens] plays a character called Vincent McCarthy who's daughter has got something called Rett syndrome, which is on the Autistic spectrum. So as a genius scientist he devotes his life to try to fix this problem with his daughter, fixing neural connections in her head. He has varying degrees of success with it, and that's where we cut into the movie. He's doing another test on one of these soldiers, and these things aren't working properly, for some reason they completely imbalance the people they put them in and the soldier in the beginning tries to kill him. He almost gives up on his research until he meets Ava, Caity Lotz's character, and Caity or Ava has been developing her own strand of AI, and together when they merge their findings they come up with something quite special. And actually The Machine passes the Turing test, which is the test to see if something is human or not or how close to human it is. They can't catch it out for the first time, it's the first time they failed to do that to a machine. So they take it a step on and put this machine, this brain, into a body.
Sam Hazeldine described what drives his character:
I've lost my arms before the film begins, there have been things I've tried before, but they've all been rubbish. There's been no sensitivty there, so at this point, the moment you've seen in the film, they give me these arms which are incredible, and they are incredibly sensitive and powerful. I'm aware of the power they have, it's actually quite dangerous but I've ingratiated myself with Thompson, the boss, and he likes hearing my old war stories. So I'm the one they try these things out on, and I hate them and have to keep my mouth shut and pretend to be charming. When Caity's character comes along, I see her as being this new person who isn't part of the poison of the MoD, I see her as a possible way of getting out. I try to get her to help.
---
Vice
The film about a futuristic luxury resort is filming in Mobile, Alabama. Explained director Brian Miller:
This is a science fiction action film and Mobile has such an eclectic feel to it, so we were able to, in certain parts of the city, create a very dystopian vision of the future. And it's really one of the primary reasons we brought the film back here was because of the locations.
[WKRG]
---
Jurassic World
Colin Trevorrow denied Idris Elba's involvement in the film (cheekily saying that the dinosaurs "wouldn't stand a chance.") [Twitter]
---
Agents of SHIELD
At PaleyFest, the producers revealed that Bill Paxton's Agent John Garrett will return later this season. Jeffrey Bell also revealed that they already know where seasons two and three will go. [TV Line]
At the same event, Jeph Loeb did the customary dance around whether Captain America: The Winter Soldier will have an impact on the film, saying "it wouldn't surprise anyone if [events from] the movie you mentioned were to happen in the show we're talking about." [Deadline]
---
The Tomorrow People
Luke Mitchell previewed a few of the major events left this season:
The Machine's going to play a very big part of the final few episodes. I can't tell you exactly what it is because at this stage, to the majority of characters, it is unknown, but it's talked about as something The Founder wanted to use/still wants to use with Roger as its engine, something about amplifying his powers. So yeah, there's that.

. . . You are getting another jaunt. We shot it recently so it's bigger than the last jaunt, I'll tell you that right now. I am involved. I'm not going to tell you who else is involved, because it's interesting. Yeah, it's definitely got a different vibe to it, this jaunt, much more at stake, and a lot more rehearsals went into it.
He also said that the love ... whatever will be taking a bit of a backseat:
It's not going to be at the forefront of anything. John's got much bigger things to worry about, [so] it's on the back burner but it definitely doesn't disappear. I think I concur when you brought up the fact that Phil [Klemmer] mentioned that fans, no matter who you ship, you'll have an episode or you'll have a storyline that you're going to like. There is more John and Astrid stuff coming up; there's a lot of John and Cara coming up. There's Stephen and, well, everyone. [Laughs] Yeah, things get very complicated. I don't even know what shape to call the love … hexagon? There's a lot of entanglements and confusion and stuff. It's on the back burner because they're talking about the end of the world, but in saying that, the end of the world can actually bring people together.
---
Doctor Who
The last few episodes of Matt Smith's run seemed to be setting up a quest to restore Gallifrey to our universe. But on the BBC Worldwide tour of Brazil, writerMark Gatiss said bringing back Gallifrey might not be such a great idea:
Every time you go back to Gallifrey, it starts to make the Time Lords a bit too domesticated. I know that's why Russell T Davies came up with the whole idea of the Doctor being the last one because eventually if you see them so often they become a bit like a bunch of MPs, whereas if you talk about them as this amazing, powerful force, they're much more exciting.

I don't know if I would want to [write a Gallifrey episode]. I think the way the Time Lords were represented in The End of Time and The Day of the Doctor was very exciting because we're seeing them in a crisis and they're trying to come up with different ways of saving themselves.

But I suppose if the Doctor ever does find Gallifrey again, then we might find out more. Who knows…
[Doctor Who TV via Den of Geek]
---
Rosemary's Baby
Here's the official description of the show to go with the first trailer:
Based on the 1967 best-selling suspense novel by Ira Levin, this new adaptation of "Rosemary's Baby" centers on a young married couple who escapes New York and moves to Paris with hopes of leaving their sad past behind. After a series of unfortunate events, Rosemary and Guy Woodhouse are presented with an offer they can't refuse - an apartment at the most prestigious address in the city. Problem is, it comes with a haunted past and an immeasurable price.

Rosemary (Zoe Saldana, "Avatar," "Star Trek Into Darkness") and Guy (Patrick J. Adams, "Suits") are incredulous at their good fortune and find comfort in a strange city among their new friends and neighbors, the Castevets. This well-to-do successful older couple takes the newcomers under their wing and become very involved with the Woodhouses' lives. Things seem to be perfect as Rosemary becomes pregnant and Guy's career takes off. As their spirited best friend, Guy's co-worker Julie (Christina Cole), spends quality time with Rosemary in the city, she finds Rosemary's health worrying and cautions both of them that something isn't right. Soon there are other signs warning Rosemary to be careful.

Guy seems to be pulling away from Rosemary and spending a great deal of time hanging around with Roman Castevet (Jason Isaacs, "Harry Potter" franchise). Roman's wife, the whimsical Margaux Castevet (Carole Bouquet, "For Your Eyes Only"), assures Rosemary her herbs and holistic medicine will help with the pregnancy, but are they helping or hurting? Rosemary's quizzical nature leads her to investigate the building and its past residents. She uncovers a dark past and realizes who Roman Castevet truly is. But is it too late? Are the Castavets' perceived sinister motives legitimate or all in the pregnancy brain of Rosemary?

In this new four-hour, two-part psychological thriller written by Scott Abbott ("Queen of the Damned,") and James Wong ("Final Destination 3," "American Horror Story," "The X-Files") and directed by Agnieszka Holland ("Europa Europa," "The Wire," "Treme"), Rosemary quickly finds herself surrounded by peculiar people and startling occurrences. Isolated in her apartment in a city where she doesn't speak the language, she begins to fear the worst: Guy may have made a pact with their neighbors, promising their newborn as a human sacrifice in occult rituals in exchange for a writing career. To what lengths would someone be willing to go for success and fortune?

"Rosemary's Baby" is executive produced by Joshua D. Maurer, Alixandre Witlin and David Stern, and produced by City Entertainment, KippSter Entertainment and Lionsgate Television
---
Warehouse 13
Here are the titles and short synopses for first three episodes of season 5:
Episode 5.01 - Endless Terror

Paracelsus face off inside the Warehouse; Claudia, Steve and Artie discover Paracelsus has turned the Warehouse into a house of horrors.

Episode 5.02 - Secret Services

Pete and Myka investigate a series of victims drowning and run into a pair of fellow Secret Service agents with a secret.

Episode 5.03 - A Faire to Remember

Pete and Steve search for an artifact that makes a horseless chariot and a life-size chess piece come to life; Claudia combines artifacts in a desperate attempt to revive her sister.
---
From Dusk Till Dawn
Here's promo video in the form of a Big Kahuna Burger ad. [Coming Soon]
---
Orphan Black
Here are three new posters for season 2. [Coming Soon]
---
The Walking Dead
Here's the promo and the sneak peek for the season finale. [Coming Soon]
---
Game of Thrones
Here are two more trailers for season 4. [Coming Soon]
---
Person of Interest
Here's the summary of episode 3.20, "Death Benefit":
REESE POSES AS A SECRET SERVICE AGENT TO PROTECT A CONGRESSMAN WHO MAY HOLD THE KEY TO STOPPING DECIMA'S PLANS, ON "PERSON OF INTEREST," TUESDAY, APRIL 15

"Death Benefit" – Reese poses as a Secret Service agent to get close to the latest POI, a U.S. congressman who may hold the key to derailing Decima's plans to bring a second Machine online, on PERSON OF INTEREST, Tuesday, April 15 (10:01-11:00 PM, ET/PT) on the CBS Television Network.
---
Once Upon a Time
Here's the trailer for the March 30th episode, "Quiet Minds." [via K Site TV]
---
Beauty and the Beast
The CW's website seems to have given a return date for the on-hiatus show: Monday, June 2 at 9 PM. Presumably, they'll run all the episodes they have until they run out. [K Site TV]
Additional reporting by Charlie Jane Anders and Emily Stamm