As part of a series of special reports that could have come with a co-byline from Quentin Tarantino, Reuters has confirmed that it bought two human heads and part of a spine while investigating "body brokers," America's largely unregulated vendors of human parts. According to the news agency, reporter Brian Grow was able to buy the heads and the cervical spine "after just a few email exchanges." Each head, and the spine cost $300, plus shipping, each.

Reuters identified 34 active body brokers in the US, mostly working as for-profit companies. Between 2011 and 2015, Reuters estimates these brokers received at least 50,000 bodies, shipping more than 182,000 parts across the country.
Depressingly, the human body costs less than one semester of college tuition. Reuters found a cadaver averages about $3,000 to $5,000. Individual parts are less, selling for hundreds of dollars. So what does one do with a head, spine, or, say, 27 shoulders? Research, mostly. Universities and medical institutions training surgeons or conducting research use dead bodies through what's called an "anatomy bequest program," where the arrangements are typically started while the person is still alive.
But, as one mortician notes in the full report, cremation probably "isn't paying the bills" like it used to for some funeral homes—which is where the money comes in. Morticians and funeral directors can gently recommend next-of-kin who have chosen incineration or other disposal techniques for their family member to instead "donate" the body to a broker. It's grim (all of this is grim), but some people are apparently persuaded by the idea of the body being used for research and training people who go on to save other lives. For their trouble, brokers reportedly pay morticians a referral fee of roughly $300 to $1,400 dollars.
The Reuters reports delve into how this clear profit motive (in addition to limited oversight and already shaky legal standing) leads to the ghastly treatment of human bodies. One woman was given the fake ashes of her father, mixed with sand, only to discover his remains were improperly stored weeks later. In a follow-up story published today, Reuters used DNA testing to identify the man whose spine they'd purchased, only to discover his mother believed the brokers were "just taking skin samples."
G/O Media may get a commission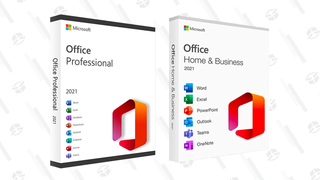 89% off
Microsoft Office Professional 2021 Lifetime License
Like many whose bodies end up in the broker market, the man's surviving relatives said they donated his body because the couldn't pay for a traditional burial or cremation. "I couldn't afford nothin' else," the man's father said. In some cases, morticians offer free partial cremation to family members if they donate their loved one's body.
According to Reuters, the body parts they purchased "were never handled by journalists." After Grow received the boxes at a temporary office set up for the investigation, a mortician transported them to the University of Minnesota's anatomy bequest program.
[Reuters]

Correction: The previous version of this draft incorrectly listed the cost Reuters paid for the remains.