We may earn a commission from links on this page.
This browser does not support the video element.
Before smartphones or mobile VR there were precious few ways for your eyes to feast on a far off land. The View-Master was one of the best ones. It could transport a person anywhere—provided they had the imagination and the patience to thumb through the dozens of slides on a View-Master wheel. Rebecca Kilbreath had that patience, and has amassed one of the larger collections of View-Masters and View-master reels.
When it was released in 1939, the View-Master was a window into the world for people who didn't have TVs at home or couldn't travel to faraway places. Kilbreath's reels allow her a glimpse into places that no longer exist or images that wouldn't be acceptable today, like a dolphin jumping through a hoop of fire at an amusement park in Canada.
Now Kilbreath scours ebay and antique stores hunting down old reels and the last few View-Masters she still needs for her collection. There were only around 30 models every produced and Kilbreath has 25.
Recent Video
This browser does not support the video element.
Kilbreath, who is the Editor-in-Chief of Restaurant Development+ Design magazine, studied film and library sciences. She puts those two degrees to good use cleaning, storing and cataloging the 1,500 reels she's collected onto an enormous, ever-growing spreadsheet that is open to all who share her passion for the toy.
If you think you or someone you know would be a great candidate for Show Me Your Nerd then send us an email at myra.iqbal@gizmodomedia.com or alex.cranz@gizmodo.com.
G/O Media may get a commission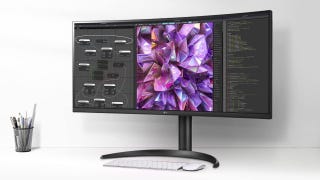 28% off
LG UltraWide QHD 34" Curved Monitor