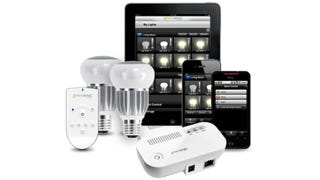 The Island of Dr. Moreau-style splicing of technologies is generally one trend the world could do without. "Haven't you always wanted a lava lamp with a built-in hatchet?" No, Mr. Pitchman, and please take your abominations elsewhere.
But every once and in a while we get a combination that actually makes a lot of sense. And Wi-Fi in your lightbulbs may just be the future of lighting.
The GreenWave Reality Connected Lighting Solution is pretty remarkable. You simply screw in the bulbs, plug GreenWave's magical little box into your existing wireless router, and do a quick setup on your iOS or Android device. Done. No rewiring your house or anything like that. The LED bulbs fit in most standard sockets, and can all be controlled (individually or in groups) by a remote control or by any iOS or Android device. We spent the last few days with these bulbs, and here are some first impressions.
The bulbs themselves give off a warm, 2700K glow, which is a comparable color to incandescent bulbs. It's a pleasing light, and it retains that color even when dimmed. The LED bulbs are Energy Star Certified, and consume just a fraction of the power of incandescents. These are roughly on par with CFL bulbs in terms of consumption, but they are far more durable and should last a great deal longer. We tested the 40-watt equivalent lights and they cast a very nice, even lighting to the room. The top of the bulb is a disc that doesn't light up, which makes the bare bulbs not particularly attractive, but they're certainly not as ugly as others we've seen.
As we wrote nearly a year and a half ago, amazingly each lightbulb has its own IP address (using IPv6). That makes every bulb individually controllable, though they can be grouped together into fixtures. It's an extremely scalable solution—each GreenWave router is capable of supporting as many as 500 individual nodes. Each bulb acts as a relay point for the others, which improves performance even across large houses.