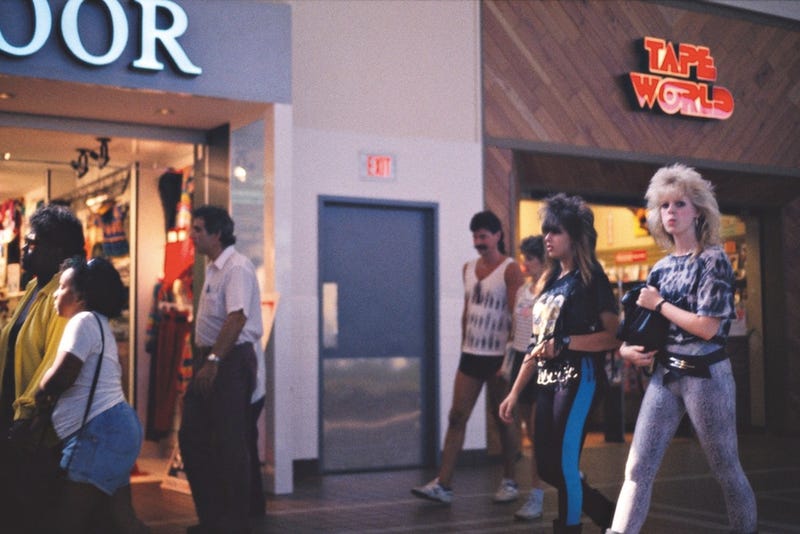 Of the thousands of images that photographer Michael Galinsky took in malls during the summer of 1989, this one really seems to strike a nerve, but not necessarily because of the big bangs and acid-washed leggings, he says. "I get so many comments about Tape World." Memories of lost stores and dubious fashions abound in his new book, the gloriously nostalgia-soaked Malls Across America.
As a photographer and filmmaker, Galinsky heads the multimedia firm Rumur and served as director of photography for the documentary Battle for Brooklyn. But, before that, he was a "very punk rock kid" majoring in Religious Studies at New York University.
On a whim, he took a few shots of the Smith Haven Mall on Long Island for an assignment in a color photography course which turned out to be well-received. "The teacher was really interested and said go to more malls," he remembers. So Galinsky did—taking his Nikon FG-20 on a cross-country road trip with a friend, photographing 15 malls across the U.S.
Galinsky was inspired by photographers like Robert Frank, who traveled the country photographing people for his 1958 book The Americans (which is also published by the German publishing house Steidl). "If Robert Frank was going to do The Americans now he'd probably shoot a lot of it in malls," says Galinksy. "The mall is the new downtown public space—but it's actually a private space." But he never got permission to photograph in any of the malls. "There was a lot of shooting from the hip," he says.
Looking back at the photos, Galinsky has a very difficult time remembering which images are of which malls due to the complete lack of regional differences. This was illustrated to comedic effect when Galinsky stumbled across a mall in Bellevue, Washington that was an exact replica of one he had visited in St. Louis, Missouri. "Even the restaurants in the food court were the same," he says.
As he finished the book last year, Galinsky re-visited a few of the malls. Some have been revitalized, usually meaning their names now include words like "Collection" or "Crossing." Some are nearly vacant, dying a slow death. Many are dead, like the South Square Mall near his hometown of Chapel Hill, North Carolina, which has been replaced by big box stores.