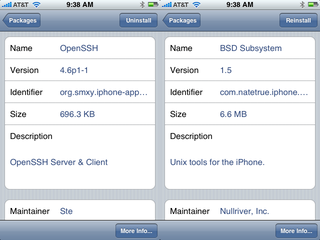 Click to viewAlthough using iBrickr or iFuntastic to get files and applications on and off your iPhone is fine, it's sort of a pain to have to dock it every single time you've got a new NES ROM you want to play. There's an easier way thanks to SSH, the remote command line tool that Linux and Unix users have been using since 1934. With this, you can browse and copy files to and from your phone with either a command line or even a FTP client that supports SFTP. Here's what you do.
Connecting to the command line:

The first step is to jailbreak your phone. Jesus's guide will get you started with both AppTapp for Mac and iBrickr for Windows. They're both just as good. If you're on Windows and using iBrickr, you have to go to the extra step of installing Installer.app onto your phone. You can do this inside the Applications section of iBrickr.