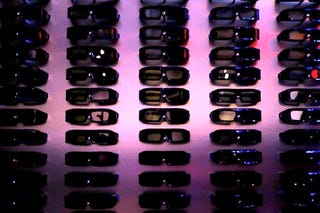 I'm a skeptic who's seen every consumer-grade 3D TV in existence from manufacturers like Panasonic, Samsung, and Sony. I've seen OLED 3D, plasma 3D, LCD 3D and LED LCD 3D. And I've finally made up my mind on the matter.
Even though every technology coming to market this year requires glasses, even though 90% of 3D implementation is unwatchable, even though the tech will inevitably be dated within the next few years...
I would buy a 3D TV this year.
(Now realize there are about a thousand caveats to that statement, which is what this entire piece is really about.)
I wouldn't buy any old 3D tech.
There is only one TV I've seen—out of very, very many—that captivated me like Avatar on IMAX. While most of the time I couldn't wait to pull the glasses off my face, LG's 60-inch plasma prototype, slated to be a real product later this year, sort of rocked my world with nearly flicker-free performance. Panasonic's Viera V Series TVs, using similar methods on paper (plasma with shutter glasses), was a close second, as it strobed more. And I'm still curious as to why that was the case—whether it was shutter glasses, the lighting environment, the source material (the LG showed more animation, which looks great in 3D) or the display itself that made the difference.