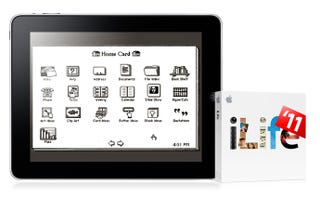 French Blog Mac4Ever claims that iLife'11 will arrive on August 7, 2010. According to their sources, the $79 package will feature 64-bit apps, deeper integration with Facebook, completely revamped iWeb, and a mysterious new app. What could it be?
There are no details about this mysterious software that apparently is taking the place of iDVD—which the publication says will disappear forever in this release. I'm not surprised about iDVD vanishing, given the fact that most video material is now shared online and not through physical media. But what other iLife application could be good for consumers?
A New Visual Hypercard to Create iOS Apps
My gut instinct prediction: An iOS app creator for consumers, no real programming requiring. All visual and pretty, unlike Google's App Inventor.