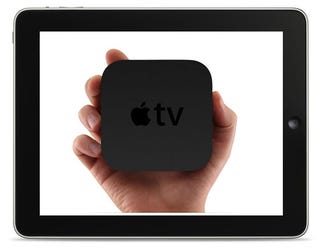 The iPad, iPhone, and iPod Touch all use a menu system called "Springboard" that doesn't exist on the new Apple TV. But what the Apple TV uses instead might be coming to iPad.
Lowtide is the AppleTV iOS app...
While the new Apple TV uses the iOS operating system, its interface is even more closed than an iPad or iPhone. You won't be able to load apps from iTunes or browse the web using Safari. (At least not yet.)
Instead, the whole interface is an application called "Lowtide", essentially an updated version of the "Front Row" system that has been on Macs and older Apple TVs for years. Lowtide will handle all the user interaction, as well as the video playback and streaming, connecting to Macs or other iOS devices through AirPlay—it's an one-stop shop for the entire Apple TV experience.
...that's probably coming to the iPad...
Thanks to poking around by TUAW, it's looking likely that Apple may include Lowtide in the upcoming iOS 4.2 release for iPad. That would mean your iPad would gain all the features of the Apple TV: television rental, streaming from other computers on the local network running iTunes, perhaps even being used as an AirPlay destination for other iOS devices.