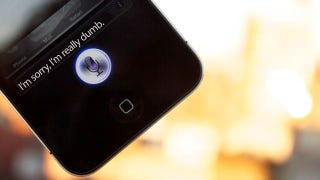 A long time ago, I made a compact with Apple. "You can control my entire technological life, from my computer to my phone to my stereo. I'll pay premium prices. I'll dive into your product ecosystem, and buy books and music and movies and apps from you. Even though they won't work on devices made by anybody else."
In exchange for surrendering control and submitting to that heftier price tag, I expect Apple products to simply work. That's all. If you use Apple products, I suspect you made a similar bargain.
And so when I first saw the ads for Siri, I expected something remarkable, like I always do with Apple products. The first true consumer-grade AI. Can you imagine how amazing it would be to have a real intelligent assistant on your phone?
After playing with Siri for more than a month, I'm still waiting to find out. Instead of an intelligent assistant I found a lie, and worse, a broken promise.
Here's the thing: Apple has to bring it to justify those premium prices. And it typically does, even when it is late to the game. The iPod wasn't the first music player, but it was the best; it was simple and wonderful. The iPhone was not the first smartphone, but it changed people's lives in a way that hadn't happened before; it was intuitive and powerful. The iPad was not the first of its kind, but I waited for the Cupertino Nod to buy a tablet. You know what? It was worth the wait too.
And then there's Siri. If I wanted a half-baked voice control system, I could snag an Android phone for $49 at T-Mobile. Instead, I waited, and gladly plunked down hundreds of dollars on a new iPhone in October—because it promised to be flawless (or close enough), like everything before it.
Check out any of Apple's ads for the iPhone 4S. They're promoting Siri so hard you'd be forgiven for thinking Siri is the new CEO of Apple. And it's not just that first wave of TV ads, a recent email Apple sent out urges you to "Give the phone that everyone's talking about. And talking to." It promises "Siri: The intelligent assistant you can ask to make calls, send texts, set reminders, and more."
What those Apple ads fail to report—at all—is that Siri is very much a half-baked product. Siri is officially in beta. Go to Siri's homepage on Apple.com, and you'll even notice a little beta tag by the name.
I'm sorry. Beta? Beta is for Google. When Apple does a public beta, it usually keeps it out of the hands of the, you know, public. It typically makes you go get betas. It doesn't force them on you, much less advertise them. Not that it is an effective disclaimer for the vast buying public. For most people who see Apple's ads, and buy iPhones, the word beta means nothing at all. It might be a fish, or a college bro.
That speech recognition is the most obvious example of that beta. Siri's most common reply to me is that "it didn't quite get that." Is this due to my (very slight!) southern accent? Is it because I mumble? I don't know, but I do know that my Nexus rarely failed to understand me in the ways Siri does.
Worse than its failure to understand my words is its failure to understand my meaning. Siri is often quite dumb. Sure, it will do what you tell it. But it doesn't interpret or do nuance, even though that is exactly what Apple promises. The recent abortion flap, for example, seems to be due to Siri's interpretive failures. Granted, I'm not planning on having an abortion anytime soon, but let's talk about hospitals.