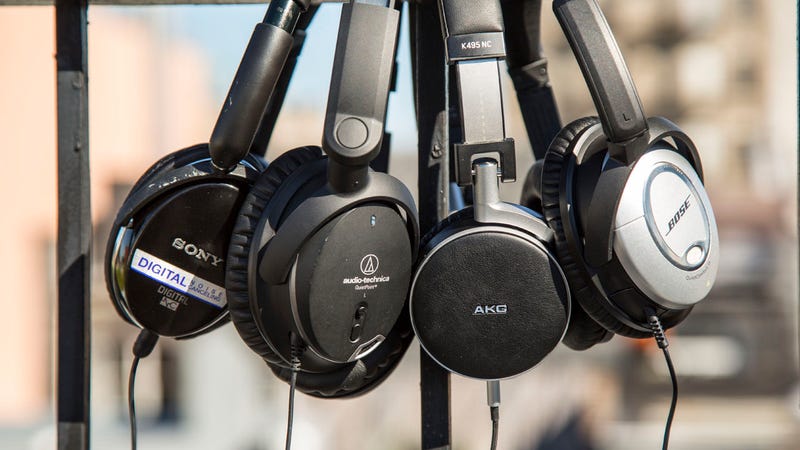 If you're interested in noise-canceling headphones you're probably looking for refuge from the roar of jet engines or the murmurs from the water cooler. Good ones should make you deaf to the world around you. Like earplugs only better—because you're listening to your favorite music in a completely oblivious trance.
Testing Methodology
We tested seven pairs of top active noise-canceling headphones that cost around $350; that's the going rate for a quality pair, and anything cheaper will be garbage. (We await your thoughtful response in the discussion section.) We were looking for the cans that best eliminated exterior noise without sacrificing the sound within. Beyond isolation and sound quality we were interested in practical considerations like comfort, build quality, and portability—these are, after all, the headphones of choice in airport lounges and during long-haul flights.
Active noise-canceling headphones pose a complicated technical problem. They use built-in, battery-powered electronics to block out the noise of the outside world by measuring the ambient noise with microphones and producing "antinoise" sound waves that cancel out the offending drone. When you switch them on, you immediately hear the slight hiss of sound destroying circuitry; when you put them on, you immediately feel the weight of batteries and wires. They've got to be done just right, because if the noise-canceling signal is just a little bit off, it'll damage the good sound waves you are trying to hear.
We listened to 320kbps MP3 and AAC files in our top-secret laboratory to test sound quality. Then, we took the cans out on the subway to see how well they dispensed with the din of rattling steel. To test intermediate noise, we put the cans up against the brain-scraping screech-whirr of a cheap air conditioner—an excellent simulation of a noise airplane cabin. With one exception the batteries survived 4 hours of music and 8 hours with the noise-cancelation turned on but no music playing. Overall, we were very impressed at how good the headphones sounded.
Honorable Mention
Like all Monster headphones, the Inspirations sport a unique design that some people will find appealing and others will find atrocious. At about 12 ounces, they're among the heaviest cans we tested, and to make matters worse, they don't sit securely on your head. Again, they're by Monster, so there's maybe too much bass. But overall the Inspirations sound pretty good. Noise canceling was passable.
The Design of PXC-450s mimics Bose's semi-iconic, boring, silver design. When testing battery life, the Sennheisers crapped out after just 4 hours of play time and 4 hours on without music—a lot less than any of the others we tested. The noise-canceling electronics inside the ear cups jut out and scrape against your ears unless they're positioned just right against your head. We usually love Sennheiser products, but these were a disappointment.
Polk is a legendary loudspeaker company, and this is its first foray into over-ear headphones. So maybe you can forgive the engineers for making a few mistakes. The good news is that the UltraFocus 8000s sound beautiful. They're clear and balanced across tonal frequencies. The downside is that the build quality is clunky—like the 8000s are still a prototype. And at nearly a pound, they're much heavier than our favorites.
Fourth Place: Bose QuietComfort 15
Bose's noise-canceling headphones are incredibly popular for a good reason, and these cans were the most comfortable ones we tested. They feel practically weightless on your head, and do a great job of blocking out stray sounds. We desperately wanted to hate them for their sterile, yuppie-chic style, but we couldn't. In addition to being comfortable, they just sound too good: great detail, but they're also punchy and bright. They're bass-heavy though; if you're listening to a track with a real beat or baseline, it'll overpower the rest of the music.
Bose QuietComfort 15
• Weight: 6.8 ounces
• Battery: 1 AAA
• Price: $300
• Gizrank: 3.5

new AmazonBox( 'B0054JJ0QW', 'default' )


3rd place: AKG K 495 NC
These AKGs are unique in this battlemodo. They're the only on-ear cans we tested—rather than fitting over your ears, the pads sit directly on them. They're also the loudest headphones we tested by a long shot. We reviewed these things a few months ago and dubbed them the ideal city cans because of their relatively light weight, comfy leather earpads, tough build, and awesome sound. Well, the K 495 NCs also sound spectacular: clear and detailed. Unfortunately, that audio prowess seems to come at the cost of noise-canceling skills. The 495 NCs don't scotch the din as well as the others we tested. On the bright side, they work with the noise-canceling turned off, which is uncommon. Switching it on gives the bass a noticeable boost but doesn't isolate you completely. Still these are great, and we recommend them—unless you're looking for something to take on the plane week after week.