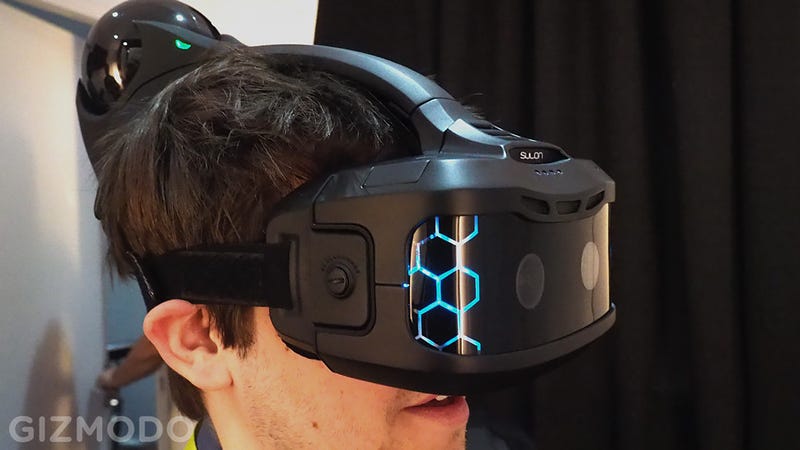 VR is coming, for real this time, and everyone wants a piece of the pie. Me, I want to put every dumb-looking headset I see onto my face. Today it was the Sulon Cortex, a big ol' camera-toting headset that claims it'll turn your living room into the holodeck. It can't quite pull it off, but it tries its damnedest.
The Sulon Cortex is basically part Oculus, part Kinect. It actually doesn't use either of those gadgets, but the end result is a mix of the two concepts. The self-contained unit (no tethering to a PC!) is a screen mounted in front of your face, and a big, wide-angle ball-shaped IR camera that sits on the back of your skull like an all-seeing boil. By teaming up, the two can map a 3D model of the room in seconds, and then feed it back to you on the screen, with dragons and portals and whatever else added in for extra fun.
I got to play with two demos. The first started with a live feed of the room I was in—but with a mysterious portal lodged in the corner. When I walked over to it in real life and stepped through, I was suddenly standing on a platform surrounded by lava, shooting a dragon with magic from my my hands. In a second, less gamey one, I just walked around a floating engine block, exploring it from all angles.
Both of the demos were neat, and the premise of a VR headset that knows what's actually around you seems sound, but the whole experience was riddled with problems. Some are fixable, but others are more inherent, and it makes me wonder if this wonderfully insane device has any real future.
First and foremost, the VR aspect of it just wasn't up to snuff. At all. This is a prototype unit, sure, but the frame rate was low, which really killed the immersion. It felt further behind than the first Oculus Rift, thanks in part to some pretty clunky Half-Life-grade graphics. The hand-tracking—which works by way of a device that looked like a Leap Motion but that Sulon would not confirm is a Leap Motion—was spotty too. Nothing close to what Project Morpheus can achieve with Move controllers.