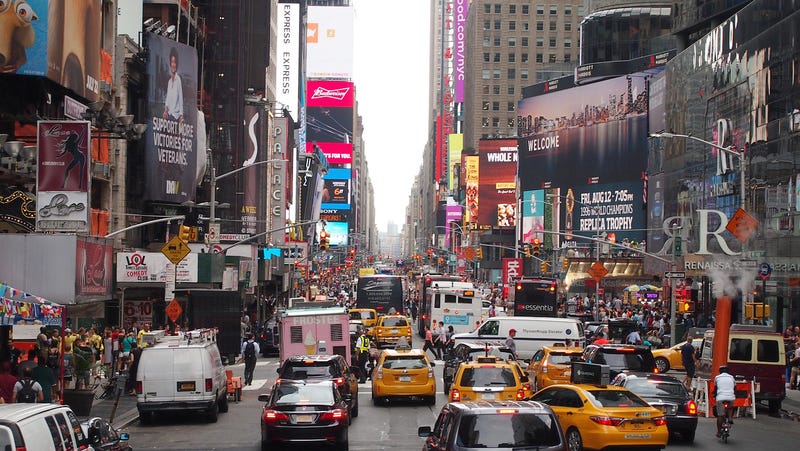 A computer model developed by researchers at MIT shows that just 3,000 Uber and Lyft vehicles, when carpooled, could replace New York City's entire 14,000-strong taxi fleet. It's a finding that highlights the potential for ridesharing apps to revolutionize transportation in big cities.
A new study published in the Proceedings of the National Academy of Sciences shows that 3,000 four-passenger cars could serve 94 percent of demand in New York City, while 2,000 ten-person vehicles could fulfill 95 percent of demand—and with an average wait time of just 2.7 minutes and a trip delay of about 3.5 minutes. To make this efficiency a reality, however, most passengers would have to use the carpool feature on their Uber or Lyft apps, requiring them to share their ride with others and make multiple stops along the way.
The study, led by Professor Daniela Rus of MIT's Computer Science and Artificial Intelligence Laboratory (CSAIL), demonstrates the power of carpooling when used in conjunction with ridesharing. New York City has about 14,000 taxi medallion licenses, but the new research suggests the city's transportation infrastructure could function just as efficiently with a fleet one-quarter of this size.
Ridesharing, love it or hate it, is transforming the way we get around—and not just because it's cheap. These services, as the new study attests, can significantly reduce the negative impact of traffic. Over the course of a single year, congestion costs Americans roughly $121 billion in lost revenue, 5.5 billion hours of time spent sitting in traffic jams, and an additional 2.9 billion gallons of fuel burned. Traffic also contributes to higher accident rates, pollution, and greenhouse gas emissions.
On the downside, ridesharing platforms like Uber threaten the traditional taxi model, and the fuzzy legal status of their drivers has led to worker exploitation. Given its unregulated and often chaotic nature, ridesharing presents a host of other problems as well.