This week, Media Rights Capital revealed it commissioned a 10-episode adaptation of crime thriller The Outsider by an author who has seemingly become the most desirable man in Hollywood lately: Stephen King. A lot of King's work is currently in the process of being remade for television and film—so here's a reminder of just what's in store.

This is nothing new, of course—just a few years ago, we ranked the then-current (and frankly alarming) total of 58 King movie and TV adaptations that were being developed. In the years since, it feels like you can't go a week without another addition to the lengthy list of King adaptations. Hell, it's happening so often we've joked about the mammoth number of adaptations being approved multiple times! But jokes cannot, and will not, stem the tide of King-content hitting our TVs and movie theaters in the near-ish future. Aside from the just-revealed Outsider adaptation, here's what else is being worked on.
---
Movies
The Long Walk
New Line recently tapped Zodiac's James Vanderbilt to produce and write the screenplay for this adaptation of the 1979 dystopian novel, set in a future America where 100 teens are picked to take part in a grueling march that only ends when a single kid is left alive.
G/O Media may get a commission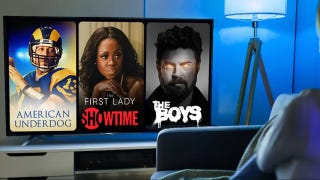 UNDER $1
99¢ Prime Video Channels
Tommyknockers
Aquaman's James Wan will direct this take on King's novel about a crash-landed alien spacecraft that casts a dark shadow over a quiet New England town. Universal won the rights to this latest adaptation (ABC turned it into a miniseries in the '90s) in 2018.
The Talisman
Speaking of Universal, it's been sitting on the rights to adapt this novel since before the novel even came out, hoping that one day Stephen Spielberg would direct it. It's about a young boy trekking across a fantastical alternate America to find the titular talisman, in the hopes it can heal his cancer-stricken mother. Spielberg recently teased that, three and a half decades later, he's finally looking to take on the project, but nothing's officially confirmed beyond that.
It Chapter Two
The follow-up to Andy Muschietti's excellent 2017 adaptation will focus on the segments of King's novel that follow the members of the Losers Club as adults, decades after their traumatic childhood encounter with demonic clown Pennywise. You can check out the trailers here, ahead of its release on September 6, 2019.
Doctor Sleep
In 2018, Warner Bros. announced it had "fast tracked" an adaptation of King's sequel to The Shining from director Mike Flanagan. The story picks up decades after the now-iconic events of The Shining and sees mysterious supernatural threats test the psychic abilities of a middle-aged Danny Torrance, played by Danny Torrance. Check out a trailer at the link below!
Suffer the Little Children
This one was announced almost immediately after It enjoyed a monumentally successful opening weekend at the box office. Sean Carter will write and direct the adaptation of King's short story about a teacher trying to figure out if her young students are actually human or not.
Firestarter
Yet another remake of an already beloved King adaptation, this one was set to be directed by Akiva Goldsman for Universal—but recently Faith Akin replaced him. Firestarter, first published in 1980, follows a young girl with pyrokinetic superpowers as she goes on the run from a shadowy government agency that hopes to weaponize her abilities.
Snapshot 1988
Okay, this isn't technically a King adaptation—it's based on the short story by King's son, Joe Hill, that was first published in Cemetary Dance in 2016. But, lineage aside, it's an '80s-set story about a young boy encountering a mysterious man who can steal memories with a camera, which, come on, is King-ian as hell.
In the Tall Grass
The streaming wars continue, this time with Netflix getting its hands on this 2012 novella—about a brother and sister plagued by mysterious screaming emanating from a field that traps them inside when they investigate—from King and Hill. Splice director Vincenzo Natali will direct, and Patrick Wilson has been tapped to star along with upcoming actors Laysla De Oliveira and Harrison Gilbertson.
The Gingerbread Girl
Brainstorm Media recently tapped Craig R. Baxley for this movie adaptation of King's horrifying thriller, about a woman who encounters a sinister serial killer during her early morning run.
The Boogeyman
A Quiet Place writers Scott Beck and Bryan Woods have been tapped to turn this short story—about a father who loses his children to a sinister presence lurking in one of their closets—into a movie for 20th Century Fox. Given Disney's acquisition of Fox in the meantime, and a dramatic trimming down of Fox's movie slate in the wake of it, it's hard to say if this one's still happening.
---
TV Shows
Castle Rock Season Two
While Hulu's J.J. Abrams-produced mystery series isn't a direct adaptation of a specific piece of King's body of work, it does feature a Smörgåsbord of characters and settings from his short stories all smushed together. We loved the first season, and casting has recently gotten underway with a whole host of familiar character names cropping up—including Lizzie Caplan as a younger Annie Wilkes, the protagonist of Misery.
The Bone Church
Still in its very early days—there's not even a network attached yet—this adaptation of King's creepy long-form poem about a drunk narrator's recollected quest through a jungle will be produced by Chris Long and Suicide Squad's David Ayer.
Dark Tower
Yes, we had that not-very-good film adaptation, but even before the film came out there was news of a tie-in TV series to accompany it. The failure of the movie put the show in doubt for a while, but as far as we tell, it's now supposedly happening at Amazon, with The Walking Dead alum Glen Mazzara tapped to showrun. They were cagey about it for a while, but casting has officially begun, with Sam Strike cast as the new Roland Deschain.
The Stand
Rumors of a movie adapting King's tale of a post-apocalyptic world ravaged by the release of a weaponized strain of the flu virus have swirled for years. They were then joined by talk of a prequel TV series from CBS, but most recently the project has been completely overhauled as a 10-episode miniseries for CBS' All Access streaming service, with The New Mutants' Josh Boone still tapped to oversee. James Marsden and Amber Heard have joined the series, and King will even have a rare, direct hand in the series, penning an entirely new ending for the show—although whether that's the series finale or simply additional scenes remains to be seen.
The Eyes of the Dragon
Speaking of King on streaming services, Hulu recently acquired King's 1984 fantasy novel—which has intriguing connections to the aforementioned The Dark Tower and The Stand, now both at different streaming services. Set in the realm of Delain, the novel follows its royal family and the sinister, secret plans being laid by their court magician, Flagg. Seth Grahame-Smith, writer of The Lego Batman Movie, is currently tapped to write and showrun the series.
---
That's it, for now at least—although by the time you've finished reading this, a few more have probably already been announced. Hail to the King indeed!

Update 8/12/2019: We've updated this post to reflect where we're at when it comes to King adaptations two-thirds of the way into 2019. Some have come and gone, like Pet Sematary, but there's been even more to replace those now missing from this list.
Update 10/2/2019: We've updated this post to add a video that reflects changes and updates to the Stephen King movie/TV schedule, with even more additions to replace those that have already come out.
---
For more, make sure you're following us on our new Instagram @io9dotcom.