This is far from a guarantee of a reboot. But if anybody with the purse strings is interested, the material's definitely there.
Recent Video
This browser does not support the video element.
That news comes courtesy of this weekend's LA Comic Con event, where Quantum Leap's creator, Donald Bellisario, reunited with Scott Bakula during a panel discussion that inevitably turned to reboots.
"I just finished writing a Quantum Leap feature," Bellisario announced. "I don't know what's going to happen with it, but I did write it."
G/O Media may get a commission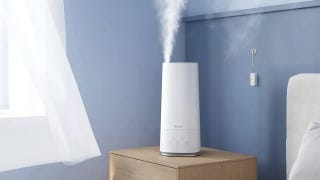 Clip Coupon
Govee Smart Humidifier
4L Large Capacity
This 4L smart humidifier from Govee is Wi-Fi enabled and can be set to turn on with a schedule or even voice-controlled with Alexa or Google Assistant. They also are great for aromatherapy. Just add your favorite essential oils like lavender or eucalyptus to the base chamber to transform your living space into a cozy, soothing atmosphere.
Quantum Leap ended infamously, with one of the most tragic (and unintentionally funny, or maybe that's just me) end title cards in history, announcing that Bakula's Sam Beckett never made the leap home. After five seasons of interdimensional problem solving, Sam Beckett was never going to get to solve his own.
Or maybe not? Bellisario wouldn't divulge any plot details, but it does certainly sound like a continuation: "I write things exactly the same way," he told the audience. "I just start writing and I let them take me wherever it's going to take me. I'm entertained the same way the audience is. So I just put Scott and Dean [Stockwell] in my head, kind of rebooted them, and went from there."

This isn't the first time we've heard rumors of something related to a Quantum Leap movie, so don't get too excited, but at least Bellisario is still invested. If nothing else, maybe he'll at least release that script sometime. Give us a chance to see where Sam leaps next.