Rosemary Travale's TARDamask t-shirt ($24 from Threadless) is a classy look for those both who can't swing a real TARDIS. See also: this Weeping Angels awareness shirt.
Oh yeah, Doctor Who: The Complete Sixth Series DVD collection is out this week. Can't forget about that!
G/O Media may get a commission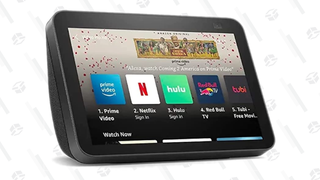 This robotic Cybermat ($39 from Big Bad Toy Store) will defend your homestead. It's unclear if it will be of any use against burglars though. See also: the $20 Adipose squeeze toy.
Hang this TARDIS ornament ($20 from BBC America) on the Weeping Angel you've been staring at for the last three weeks. A little levity never hurt anybody!
This door decal from Etsy ($30) is pretty ostentatious, so here's another one that's a little more discreet.
It will set you back $300, but this inflatable Dalek will transform your wee ones into monotone killing machines. And for splurge-happy adults, there's the official Matt Smith jacket.