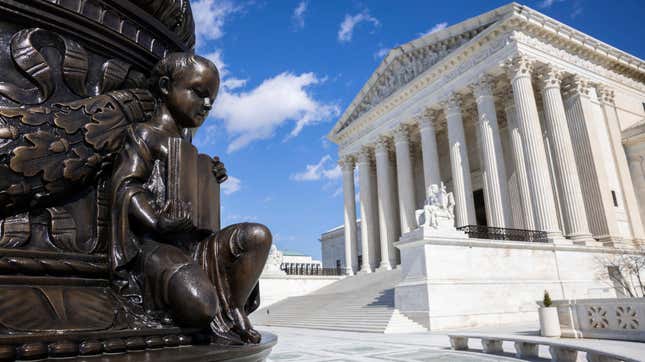 The future of online expression, as it's currently understood, could come down to five hours of oral arguments held in the Supreme Court's chambers this week. Justices heard from lawyers both attacking and defending Big Tech's strongest legal shield: Section 230 of the Communications Decency Act.
Justices heard arguments related to two terrorism cases, Gonzalez v. Google and Twitter v. Taamneh. In the first case, parents of a college student named Nohemi Gonzalez, killed in a 2015 ISIS attack, sued Google, alleging the company aids and abets terrorism by serving users ISIS content via its recommendation algorithm. The second case, filed against Twitter by relatives of another person killed in a 2017 Istanbul attack. Though the facts of the two cases are similar, Google's case deals more directly with the scope of Big Tech's 230 protections. The Twitter case, by contrast, focuses squarely on whether claims like these can be brought under the Anti-Terrorism Act.
Throughout the two-day judicial double header, justices simultaneously appeared sympathetic to tech companies' side of the argument and uncomfortable with the idea of issuing a strong Section 230 ruling. Multiple justices expressed flustered confusion throughout the proceedings, with Justice Elena Kagan even admitting members of the court don't really understand how social media works. In other cases, some justices seemed eager to offload the decision to Congress.
"We're a court," Kagan said. "We really don't know about these sorts of things. These are not like the nine greatest experts on the internet."
Justices regularly repeated fears espoused from tech companies and Section 230 supporters that any weakening of the provision could lead to a wave of difficulty to deal with liability lawsuits. At the same time, justices sparred with lawyers representing tech companies over their potential complicity in proliferating known terrorist content.