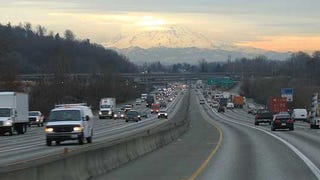 Interstate 5 crosses Washington state from Oregon to Canada. And later this year, work will begin to make it the first electric highway in the United States. It's good to be a Volt owner in the Pacific Northwest.
The Refresh charging station is like a beautifully slimmed down version of Bluelounge's Sanctuary charger, with half the connections: 2x iPod/iPhone, 2x USB, plus single Micro USB and Mini USB plugs.
Apparently not content with just one giant ongoing infrastructure project, Australia has committed to fully outfitting three of its biggest cities for widespread electric car use. In hardware terms, that amounts to 200,000-250,000 charging stations each for Melbourne, Sydney and Brisbane, with an additional 150…
I can't say that I am all that thrilled with the look of the Powerwise desk, but the concept of sliding off the surface to reveal a hidden 8-port charging station is definitely intriguing. Each one of the outlets features its own on/off switch and there are storage drawers to keep your cords neatly tucked away. It…
Oncore's just released a six-bay MacBook and iBook charger which, as its name implies, can charge six batteries at the same time. Or rather three batteries at the same time, since it's divided up into three sets of two charging bays. Each bay can charge one while holding onto the other for when the first is done. This…
The Gadget: Kangaroom's laptop stand and charging station, which offers a ventilated laptop stand as well as two phone/iPod holders so you can have a place to charge your gear without cluttering up your desk. It's even tilted, since many laptop users enjoy typing at an angle.
There's no shortage of charging stations, but this $49.95 Five Device Recharging Station that starts shipping next week looks especially orderly with its differently sized places at the ready for your various devices. There's four AC outlets, and even two USB ports from which you can gather juice. And, it's all…
There's nothing quite like a mass of cluttered cables to cause a stress-related premature death — luckily, the guys over at Instructables have a cheap and easy solution. This involves buying a plastic box and lid from IKEA (it doesn't have to be IKEA, but it's much hipper if it is), buying a drill with a large bit,…
The Gadget: Gomadic's QuadCharge Universal Charging Station, which charges your phones, MP3 players, Bluetooth headsets and various USB devices all in one place. It saves space, plus organizes cables neatly with only one cord running out into the wall.
We're no strangers to charging stations, having reviewed a couple before, but these Gomadic charging stations seem to be a little different. Instead of hiding a power strip inside the station, as we saw in the Kangaroom units, Gomadic has only one AC connection to the wall.
Is your Sixaxis feeling left out from all the Wiimote charging stations you've been scoping out? Now you can build one yourself for the PS3.
Apparently built for wire-a-phobes, the Multipot Table Lamp and Charger is a shiny and expensive device that hides that rat's nest of charging cables you've been accumulating and functions as a charging station for your cellphone at the same time. Available in white, black, shiny chrome (pictured here) or amber, it…