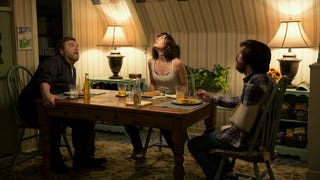 We all went into 10 Cloverfield Lane wondering how it connects to the original Cloverfield. We walked out of it analyzing the totally bonkers ending, and realizing the thriller is actually a kind of heroic origin story. io9 spoke with director Dan Trachtenberg, who explained why the ending was the whole point of the…
You've probably heard that the new movie 10 Cloverfield Lane started out as an unrelated thriller called The Cellar (or Valencia). And then producer J.J. Abrams decided to rename it 10 Cloverfield Lane, and make it a "sister movie" to his 2008 sleeper hit. This was probably a mistake, because it underscores that this…
When the trailer for the new movie 10 Cloverfield Lane was released, it was impossible not to imagine it was a sequel to 2008's Cloverfield. Why else use that title? Well, the film's producer J.J. Abrams has something to say about that. "It's not Cloverfield 2," he said.
One of 2016's most mysterious movies, 10 Cloverfield Lane, just dropped a Super Bowl commercial giving us a few more hints at what to expect from the film many feel will be connected to the hit 2008 monster movie, Cloverfield.

New Line Cinema has finally hired a new director for its long-gestating movie adaptation of Brian K. Vaughn's fabulous Vertigo comic Y: The Last Man. The bad news? The director has only professionally directed commercials. The good news? This particular commercial director is Dan Trachtenberg, who also made that…
The Portal series is of exceedingly high quality, so it's unsurprising that the game is inspiring some terrifically snazzy fan movies. In Dan Trachtenberg's Portal: No Escape, a prisoner uses her Aperture Science Handheld Portal Device to escape from her captors.