Australia has a carp problem. According to Barnaby Joyce, the country's minister for agriculture and water resources, managing the fish—also known as "Australia's worst freshwater aquatic pest"—costs about $380 million USD per year.
Last week brought the horrifying news that the Ebola virus can live in the eyeballs of survivors, even after it's been eliminated from the rest of the body. It shouldn't have been a surprise, though. Viruses have always hidden in parts of our bodies you'd never expect. In fact, we're all walking virus reservoirs.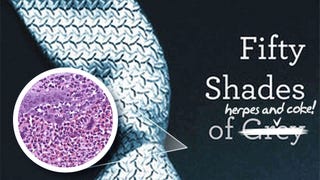 Bacteriology and toxicology researchers have found volumes infected with herpes and traces of cocaine in all the copies of Fifty Shades of Grey at a public library. According to these experts, modern drugs tests will be able to detect traces of coke from the books in your body after reading them.