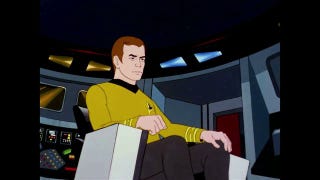 Starcher Trek puts the lunatic spies of ISIS in charge of the Enterprise, using footage from Star Trek: The Animated Series and audio from Archer to cast Sterling Archer as Captain Kirk, Lana as Uhura, and Ray as Sulu. It's a silly joke, but a good one.
There's a long weekend ahead of us, and that means one thing: DVD box sets. You could break out the Firefly and Babylon 5, or you could venture into the wild unknown. Television is full of undiscovered worlds — here are 12 underrated or overlooked science fiction and fantasy TV shows to mainline this weekend.
There's a plethora of Star Trek erotic fan fics out there where Kirk and Spock have gills. I'm serious. It's straight-up smut, except the fact that the two of them can breathe underwater for some reason I can't possibly explain -– until perhaps now. This 1973 episode of the Star Trek cartoon is, I believe, the first…
We're huge fans of Star Trek: The Animated Series, which brought back the Original Series cast and writers and included some surprisingly great stories. So it's good news that Roberto Orci tweeted that a new animated Trek could be materializing.