Halloween is right around the corner, meaning it's time once again for us to look at the weirdest, goofiest, and totally mind-boggling Halloween costumes for sale this year. They're supposed to be sexy, but they're mostly bewildering. Come join us down the rabbit hole of awful character licensing and borderline copyright infringement.
This is not about defining what constitutes a good or bad "sexy" costume. Halloween is a great time to celebrate your sexuality and have fun—as is any time of year, for that matter. Rather, we're here to look at the ridiculous, the laughable, and the stupid—with a pit stop at the downright offensive.
---
The 'Winner'
A "sexy" Halloween costume that was so bad it actually got pulled. Yandy's "Brave Red Maiden" costume was met with immediate backlash for sexualizing a series that includes rape, sexual slavery, and female oppression. The costume company pulled the costume and issued an apology, but the damage was already done. There are still Handmaid's Tale costumes available online, though they look more traditional, like the show's portrayal.
G/O Media may get a commission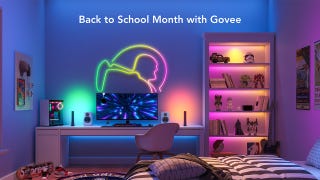 Back to School
Back to School Month with Govee Sale
---
Ooh, That's Topical
Cloudy Affair | Creepy Slim Man | Sexy Op-Ed Anonymous
Who doesn't love a good gag costume about current events? I mean, I can think of a lot of people, myself included. But nonetheless, 2018 has given us "Sexy Op-Ed Anonymous" (Yandy), a loving tribute to the brave anonymous soul who told us President Donald Trump was a blowhard...only not to our faces. We've also got this weird fake Slenderman, called "Creepy Slim Man" (Yandy), a few years past the meme's prime though they probably thought they'd capitalize on the movie. And then, oh yes, "Cloudy Affair" (Yandy)—complete with mushroom figurine. Noooooooope.
---
Scary (But Not Really)
Zombie | Killer Doll | Skeletally Clad | Silent One
For some, Halloween is a time to be scared. For others, it's a time to be sexy. And for some reason, neither the two shall meet... as these costumes fail to be both scary and sexy. There's this weird Chucky "Killer Doll" (Party King), whose jumper is so short it stops before her shirt. Silence of the Lambs gets a shout-out with this "Silent One" (Starline) costume that's more like Club Night-meets-BDSM. A little part of me is digging "Skeletally Clad" (Starline), if it weren't for the terrible mask...and even more terrible pun.
And for the menfolk, we've got your generic "Zombie" (Yandy), meaning a paper-thin long-sleeved shirt with icky guts all over it, paired with jeans. For guys, sexy usually means some form of ripped denim or fake muscles.
---
Superher-oh no
Super Villain | Poisonous Villain | American Heroine | Assassins Warrior | Winter Warrior Queen
This is where I stuffed all the superheroes and villains, along with the other fantasy figures that didn't have a place anywhere else. Wonder Woman is now the "American Heroine" (Yandy), who for some reason can't find a skirt that covers her whole butt. Venom is looking weirdly hot as "Poisonous Villain" (Starline), while Joker is lazy as fuck as a "Super Villain" (Yandy).
Game of Thrones had a few "sexy" costumes this year, mostly repeats from previous years. But I loved this version of Daenerys' winter garb from her trip North of the Wall. Everything about the "Winter Warrior Queen" (Yandy), from the awful fit to the dollar store crown, was baffling.
And can we take a minute to appreciate the sad "Assassins Warrior" (Yandy)? Maybe he's sad that the female version, "Assassins Protector" (Yandy), costs $11 more even though it doesn't have sleeves. Nothing's quite as sexy as the Pink Tax!
---
Childhood = Destroyed
Giddy Up Cowgirl | Bedrock Baby| Beast Trainer | Kiss Me Frog
Why do we feel a need to sexify things that are clearly for children? Look, I get it, we're all adults here. But some things don't have to be made for us. They can stay for kids. Jesse the "Giddy Up Cowgirl" (Leg Avenue) is for kids. The Princess and the Frog is for kids. Pebbles—or, in this case, "Bedrock Baby" (ForPlay)—is a goddamn baby.
---
Speaking of Childhood...
Where's My Brain At | Heart of Tin | A Scaredy Lion | No Place Like Home
Dorothy's gonna have a major wedgie all night. Also, Tin Woman looks like she's wearing a tin diaper. All found on ForPlay.
---
Welcome to South Park
Stanka | Erika C. | McKenna | Kylee
I can't tell whether I love these or hate them. I'm kind of leaning toward loving them, but only because they're so baffling I can't help myself. Why did it take this long to get this group of sexy South Park costumes? Why do these women perfectly exemplify the personalities of these characters? And who came up with these names they're goddamn perfect? All found on Starline.
---
The 'Please Please Think This Through'
La Mariachi | Voodoo Man | Seductive Samurai | Aztec Warrior | Legendary Latina
Really, we're doing this again? Okay, come on over here, let's have the talk. It's going to be brief, because we've already talked about this a billion times. Once again, my fellow white people, here's a message: Don't wear a Halloween costume that doesn't reflect your culture or heritage.
If you're white, don't dress like an "Aztec Warrior" (Starline), a "Seductive Samurai" (Starline), or a "Voodoo Man" (Yandy). Don't even dress like Selena, the "Legendary Latina" (Yandy). That's cultural appropriation, and it makes you look like an idiot.
---
Why.....
Jungle Warrior | Sexy Goldfish | Martian Mayhem | Mermaid Mafia
What is Halloween anymore? What is life? Why are we here? Apparently, we're here to dress like sexy fish from Petsmart and put shell codpieces on our dicks. I give up. Happy Halloween. I'm done forever.
Correction: An earlier post said Selena was Mexican instead of Tejana. We apologize for this error.