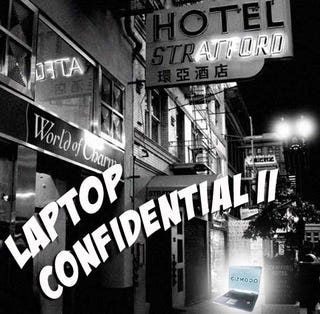 Pssst! Hey you! Want to win a $2000 laptop? Enter our Intel-sponsored Laptop Confidential II contest by making a one-minute film noir video, and if yours is the best, take home any laptop of your choice as long as it has an Intel Core 2 Duo processor inside and doesn't cost more than two grand. Jump for the details.
This year's contest is exactly like last year's with one difference: You can only show one actor in the video, but there needs to be multiple characters. The film must be inspired by film noir. You don't know what that is? OK, it's a type of cinematography that started in the early 1940s and typically had dark, moody lighting, often had a narrator, and usually was used in crime and drama films. Sin City would be a good example of a modern film noir movie.
To enter, upload your one-minute video to YouTube and send an email to laptopconfidential2@gizmodo.com with a link to your video and LAPTOP CONFIDENTIAL II in the subject line. Please do not reuse old content or movies—this is an original work of film noir, not a remixed one-minute version of Spiderman III. Make it great, and stick Gizmodo in there somewhere, and you'll have a chance to win the Grand Prize.
Contest starts Monday, August 6, 2007, deadline for entries is 11:59 p.m. on August 19, 2007, and all the standard Gawker contest rules apply.