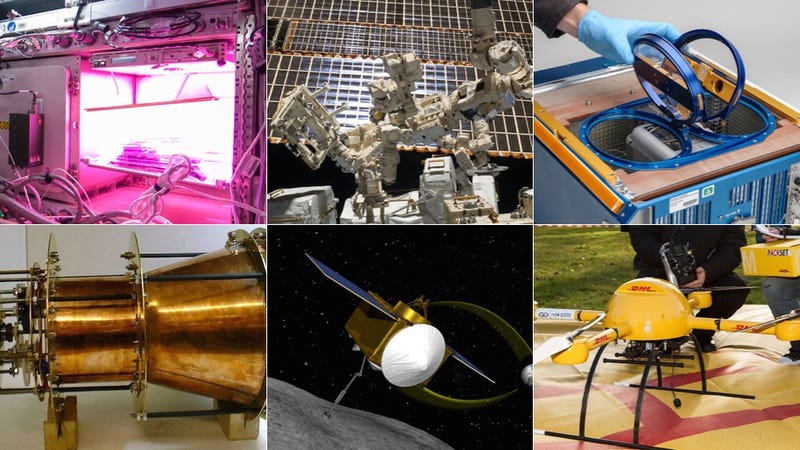 NASA is pursuing future cosmic exploration with some rather unexpected whimsy. Occasionally fantastical but always backed by concrete science, here are 10 of the most awesomely strange projects NASA's scientists are cooking up.
---
10. Dextre
We've all seen footage of spacewalks—when astronauts dangle precariously off the side of the International Space Station, just begging to be hit by supersonic space debris. But all that danger should soon be totally eliminated by the lankiest robot NASA ever did build: Dextre, the mechanical handyman. The dexterous manipulator (as it's officially termed) is now permanently affixed to the ISS to perform maintenance and keep humans safe.
Originally designed by the Canadian Space Agency (CSA), Dextre is quite large. It stands 3.5 meters (12 ft) tall, has prehensile arms that are nearly as long, and weighs 1,700 kilograms (3,700 lb)—though that shouldn't unbalance the ISS too much, as the station weighs 410 metric tons (450 tons). The robot can be controlled remotely by the astronauts aboard the station, but current protocols dictate that Dextre's commands are fed from Earth, with joint control from NASA and the CSA.
So long as Dextre performs its duties without trouble, astronauts won't have to risk their lives to fix a loose screw or frayed wire. Plus, they'll have extra time to dabble in all that space science.
---
9. Supersonic Bidirectional Flying Wing
The Supersonic Bidirectional Flying Wing is a ridiculously suave aircraft that looks like it could cut you just for looking at it wrong. Its the creation of Gacheng Za, a professor at the University of Miami. And it piqued NASA's interest because Za's concept allows the craft to excel at an unprecedented range of altitudes and speeds.
For aircraft in general, the initial phase of flight requires a large surface area to produce lift. That's why airplanes have large wings. But once the craft is comfortably up in the air, the increased surface area produces extra drag and therefore deceleration. This dichotomy of aerodynamic efficiency is never fully satisfied, but NASA hopes to skirt the issue with the bidirectional design, awarding $100,000 to further realize this crazy concept.
This giant wing is truly versatile. It uses a broad physique to easily get airborne. Then to attain supersonic velocity, it shoots to higher altitudes and rotates 90 degrees, producing the sleekest profile possible to slice through air.
---
8. Veggies In Space
Feeding current astronauts isn't a problem because now because it's relatively easy to restock the ISS's powdered enchilada reserves on regularly schedled visits. But restocking would be out of the question on (what will hopefully be) the extended spacefaring adventures of the future. So why not have a space farm?
That's what NASA wants to find out, and ingredients for the first astroponic vegetables were delivered to the ISS in April 2014. An array of LED lights incubate the baby lettuce, with red romaine so far the only thing on the menu. The lettuce unit holds six packets ("pillows") containing seeds, fertilizer, and clay.
The mature plants will be flash-frozen and shipped back to Earth aboard a Dragon capsule. But if they're deemed safe for consumption after a battery of tests, crops of all sorts could be cultivated in microgravity, seriously diversifying food choices.
---
7. Super Ball Bot
"Tensegrity" might sound like an '80s prog-rock band, but it actually stands for "tensional integrity." Using this concept, NASA has developed a flexible, physically durable, segmented ball dubbed the Super Ball Bot.
The ball's configuration allows efficient mobility and great shock-absorbing qualities because it transfers force evenly throughout the structure, much like the human body. It's so durable that NASA plans to drop these balls directly onto Saturn's moon Titan without a parachute. Its unmatched squishiness acts as a damper, replacing the need for landing gear.
It looks like a jumbled mess of tent poles. However, this flimsy contraption is actually quite stable and could serve as transport on Titan—picture an army of rolling metallic tumbleweeds. NASA will use this as a shell to augment the rovers and landers of the future. The tensegrity cocoon will cushion vehicles. The ball will get around more easily than anything with wheels, rolling over sand, rocks, and other unfriendly terrain.
---
6. Europa Drill
As a premier destination in the search for aliens, the saltwater ocean of Jupiter's moon Europa has astronomers salivating uncontrollably. Yet it's stubbornly protected by a 30-kilometer-thick (20 mi) shell of ice. Probing these depths is an unprecedented task even on Earth, so imagine the mathematical gymnastics necessary to achieve this half a billion miles from home.