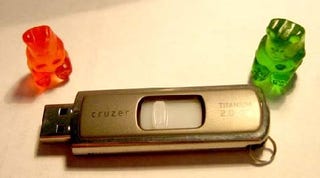 I've been a USB flash drive user for years. I'm finishing up college and I practically live on one of these between my laptop, desktop, labs and classes. I've been doing the 'ole file drag'n'drop for years. So reviewing a USB flash drive is about as entertaining as watching Snakes on a Plane—just kidding, Snakes on a Plane was freaking awesome.
Let's just say I was a little surprised by how much the SanDisk Cruzer Titanium stood out. It isn't your average USB flash drive, thanks to the form factor and amazing U3 Launchpad—I will get into later. Now, hit the jump for the full review.

Aesthetics
First and foremost, this USB flash drive is built like a tank. I've handled a lot of crap flash drives that are cheap as hell. This is nothing like it. It is composed of hardcore titanium that is supposedly indestructible. The guys over at EverythingUSB even ran one over with a car and it was fine. Included is a metal belt clip and a lanyard.