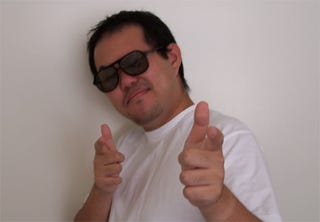 Ok, before everyone starts yelling "not news" in the comments, let me at least rehash the story.
Gina Hughes, editor of often-weekend-linked site TechieDiva, was proclaimed one of GeekSugar's "A Geek We Love"(s). During her interview, she had this to say when listing her 5 sexiest men in tech:
Jason Chen - Any guys who sticks electronics down his pants is pretty damn sexy.
Hmmm. We always liked Jason for his
mind
and his
heart
. Women can be all about the one thing. And on a side note, isn't it a
bad thing
that Jason has so much open space in the drawers?

UPDATE: Apparently Charlie White is SUPERHOT, too! Check it out here.

Geeky Girl We Love: Gina Hughes
[geeksugar]