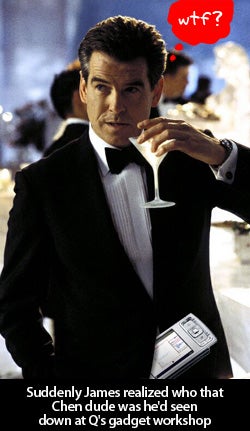 It has been well documented here that Nokia's N95 brings zero gravity to your pocket—a certain feeling of weightlessless as you realize that your wallet is lighter by 750 notes.
Well, paranoid (and rich) types can launch their wallets into even deeper space by blowing $4,520 on the same phone but with one special add-on: spooky-ooky technology that seems perfect for Russian oligarchs, cuckolded billionaires, Jason Bourne and James Bond.
London shop Spymaster has modified the N95 so that it allows you to listen to room and phone conversations from anywhere in the world. This snitchy little cellphone will also pass on all text messages it sends and receives to your own mobile (assuming you've given it to Svetlana as she spends a week on your second yacht, bending and unbending in the company of her yoga yogi Rubber Dave).
Lastly, it will send you an SMS if Svetlana smells a rat and changes the SIM card in her Spy Phone. What it won't do is cut Rubber Dave's gonads off for you before feeding them to the sharks in your private aquarium, or broker Svetlana's divorce settlement. – Ad Dugdale
Product Page [Spycatcher via Mad4Mobiles]