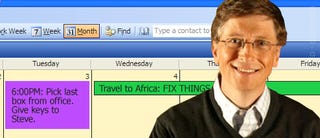 Bill Gates wrinkled his nose at me. "You just squished your question."
Aw shit, I just annoyed Bill Gates.
I asked about collaborative tech projects between the Gates Foundation and Microsoft. You could see the question practically crawl up his spine and spill out of his eyes as laser beams of frustration fueled by my stupidity. I knew should have asked him about his prison record again—after all, it's a cocktail reception and small talk about his tough youth might've been a better icebreaker. His answer is a bit rambly, with several little examples such as micropayments on phones, PC setups donated to libraries and other tech. Then he turns to say he is going, awkwardly, forcefully, but I stop him to say one last thing: "Thank you for what you've done in computing for all of us." You know in about a week he's retiring from his full time work at Microsoft.