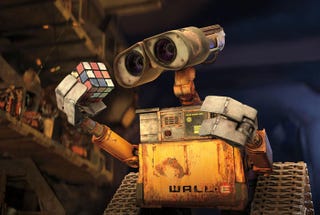 Wall-E might be the most sympathetic, lovable robot ever created on film. While R2-D2 was hilarious and endearing, he had the benefit of C3PO to translate for him and a cast of human characters to carry the weight of the story. At the end of the day, R2-D2 was simply comic relief, but his descendant, whose voice was also created by Ben Burtt, is so full of humanity that you feel like your heart might just burst. Simply put, Wall-E is a masterpiece.
The first 40 minutes or so of Wall-E are almost completely without dialogue. Instead, the story is told visually, as we see Wall-E, the abandoned garbage bot, puttering around a staggeringly rendered post-apocalyptic Earth. He goes around doing his job, as he has for the past 700 years, compacting trash into cubes and stacking them into immense towers. On the side, he collects remnants of humanity to keep for his own amusement. Zippo lighters, Rubik's Cubes, Christmas lights: these are what Wall-E surrounds himself with. Because he's so alone (except for a little cockroach), these dirty, abandoned objects are his companions, his contact with humanity.
He watches Hello, Dolly! on an iPod that he somehow hooked up to a VCR, emulating the dancing and learning about love. (That's not the only Apple reference in the movie: he makes the classic Mac bootup sound when he turns on, and his love interest EVE was designed by Jonathan Ive). When you see Wall-E try to imitate the dancing using a hub cap he collected just for that purpose, you know that this is more than a piece of machinery. Proving Pixar's raison d'etre, this little silent robot has more humanity in him than most movie characters played by actual humans.