When Bang & Olufsen,
maker of very expensive things that use electricity
, let slip
a photo
of their upcoming BeoSound 5 home media controller, I saw a lot of potential. The interface looked nice, the hardware classy, and the screen crisp — in other words, if this thing connected with network music shares and played nice with a variety of home A/V equipment, it could be a winner. Well, we've got our hands on the official announcement, and it looks like we might have been a little optimistic. The control unit is as stunning as the early, blurry pics had implied. With a sharp 1024x768 screen, a brushed aluminum control knob and an attractive, minimalist interface it would be a treat to use as a home media controller. Unfortunately, if predictably, it is only compatible with one product, which is, you guessed it, a Bang & Olufsen server. Called the 500GB BeoMaster 5, the box is a largely unchanged followup to the company's $2700 BeoMedia media center PC.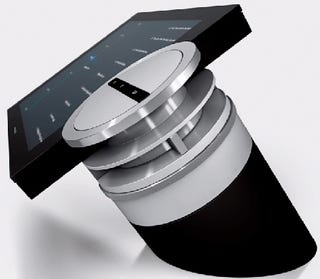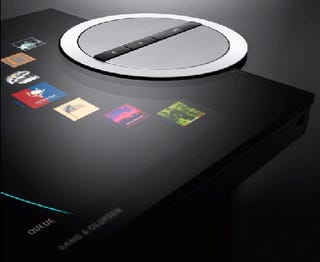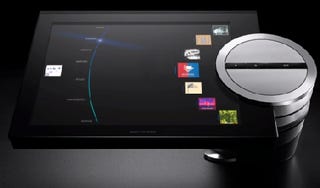 In other words, the BeoSound controller is just that — a gutless remote. Without the BeoMaster, which it connects to via DVI, it's just a screen with a pretty dial. B&O haven't given any clues as to the price of the unit yet, but the BeoSound and BeoMaster will be, shall we say, luxury items. They're set for sale in May, you can find more detailed info at the B&O forums, or glance the presser below. [Bang & Olufsen via Acquire]
The BeoSound 5 are two components which make up the new audio master media player which was launched on 11th November 2008 The Beomaster 5 is intended as the a replacement for the Beomedia 1 and subsequent to the launch the Beomedia 1 will be discontinued. The Beosound 5 has the following Key Features and Spec:- * Graphical User Interface which provides the user the ability to navigate their entire music collection * The users music files now resided on the 500GB hard drive located in the Beomaster 5 unit which has a physical size and appearance of the Beomedia 1 * When the music comes to an end, BeoSound 5 will continue to play 'More Of The Same' (MOTS) – that is, it will find other music on your system that complements what you've already been listening too. * There's an aluminum wheel that enables you to scroll smoothly and quickly through tracks and a 10.4" LCD with 1024 x 768 screen resolution that displays crisp graphics and album covers. You have your entire digital music collection plus thousands of internet radio stations available to you * Mount it flat on a wall; or on a wall bracket with stand so you can tilt and angle it; or simply place it on a pedestal on an aluminum floor stand * Designed by Anders Hermansen * Cabinet finish is Aluminum/black * Dimensions and weight is 12" x 7" x 3" and 5.8 lbs (31cm x 19cm x 8cm and 2.65 kg) * Connections are via three which go to the BeoMaster 5 (DVI, Power, USB) * An Aluminum and black wall bracket is included with the Beosound 5 and as an option you can have an extended wall bracket, a table stand in black and a floor stand in aluminum Beosound 5 Overview The BeoMaster 5 uses a VIA 2.0 Ghz processor made by VIA Technologies Inc with 1GB of random access memory and a 500GB hard drive and runs an embedded Microsoft Windows XP SP2. The unit has DVI-I, S-Video and YPbPr for TV along with Masterlink, two Powerlink sockets, two USB sockets and a 10/100 Mbit/second ethernet. BeoMaster 5 provides power to the Beosound 5 as well as infra-Red and USB mini. Display resolution via DVI-I is 1920x1200 and supports HD 1920x1080p