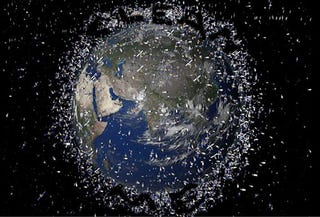 There are 18,000 pieces of tracked space debris in orbit—and millions more smaller bits—all potentially fatal. To nudge them towards the atmosphere to burn up, one scientist proposes lasers, another proposes water.
According to the Wall Street Journal, the problem with debris eradication is that there's no money in it. Anybody can cough up a billion or so to launch a telecom satellite, but anyone who wants NASA or the ESA to start cleaning up has to come up with a plan that costs a lot less.
There's no money in it probably because nothing really bad has happened yet. According to that video down below, shuttle pilots have had near misses 12 times with pieces and parts that could've played serious havoc. Like so many busy intersections that are missing stop lights, the problem may require a fatal collision before money is made available. Though nobody died, the recent mid-air collision of US and Russian satellites was at least some kind of wake-up call.