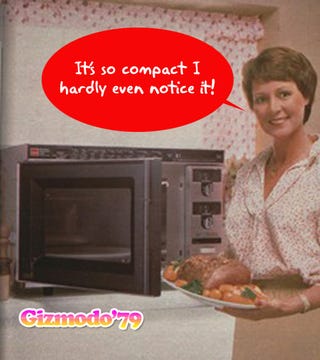 So your MacBook cost $1500—boo hoo. Thirty years ago, when the average salary was under $18,000, you'd have paid $2638 for an Apple II with 48K of RAM ($7770 in today's dollars). And a cellphone? Waaaay more.
Cellular technology had been in development since the early '50s, but cellphones didn't become commercially available until Motorola's DynaTAC 8000X gained FCC acceptance in 1983. The DynaTAC had 30 minutes of talk time, 8 hours of standby and memory for 30 numbers. It was also big enough to club that punk kid with the Flock of Seagulls haircut without getting blood on your favorite tweed jacket (you know, the one with the elbow pads). And the worst part is that you would have paid $4,000 for the privilege, $8,589 when you calculate for inflation. Needless to say, spending $200, or even $400, for the latest smartphone doesn't seem like a bad deal comparatively. TUAW" />
The point is this: We all like to complain about the price of our gadgets, but the truth is that factors like increased competition and better manufacturing technologies have made the gadgets we buy today seem like extreme bargains when put in a historical context. Let's take a look at some more examples:
VCRs vs Blu-ray Players

In the late '70s, JVC's 30-pound HR-3300 VHS player rolled out onto load-bearing retail shelves with a price tag of about $1400 ($4,124 in 2009 dollars). The rival Sony SL-5400 Betamax player with its new fangled fast forward and rewind capability wasn't much better at $1250 ($3682 in 2009 dollars).
In contrast, the Samsung BD-P1000 was one of the first Blu-ray players to hit the US in 2006—and it debuted for around $1000. That same year you could buy a Blu-ray player in a PS3 for under $500. Today, basic Blu-ray players can be had for less than $100. That's a 90% drop in just three years.