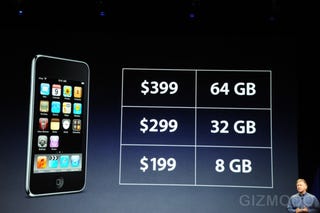 As expected, the iPod touch third generation is here. It comes in 8, 32, and 64 GB—for $199, $299, and $399. The new 32 and 64GB version has a faster processor, 50% faster. Just like the iPhone 3GS.
Also like the iPhone 3GS, the graphics processor in the new iPod touch has OpenGL ES 2.0 capability. No wonder they are pushing so much on the gaming front.
No sight of the rumored camera. A lot of case manufacturers are going to spend a lot of time fixing holes.