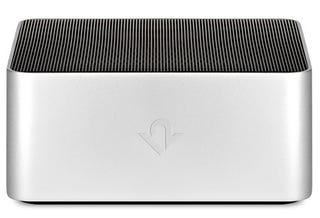 BassJump is, quite simply, a dedicated subwoofer to complement your MacBook—in both aesthetics and sound.
Rather than merely plugging in through USB, the BassJump uses proprietary software to remix all audio coming out of your laptop, essentially treating those tinny integrated speakers as tweeters while the BassJump handles the lows.
I can't believe that this solution works better than simply plugging in a whole new 2.1 speaker system, but I must admit, the Mac Mini styling coaxes my fanboyism to at least give the idea a shot. $80 and available now.
[BassJump]